Project details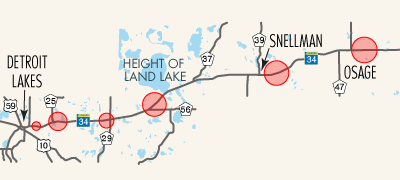 The Minnesota Department of Transportation plans to construct passing lanes and other safety improvements on Hwy 34 between Detroit Lakes and Akeley. This work is based on a 2003 Interregional Corridor Study.
The project is funded by the Corridors of Commerce program authorized by the state legislature to help improve freight movement and mobility. Safety enhancements are also included.
Project elements from west to east along Hwy 34
Additional left turn lanes at Becker County Road 141 and Becker County Road 25
One eastbound passing lane starting just after Becker County Road 25 and heading further east
Becker County Road 29 intersection consolidation to a safer design
Eastbound and westbound passing lanes starting at County Road 56 heading further east
One westbound passing lane starting just east of Snellman followed by an eastbound passing lane heading further east
Eastbound and westbound passing lanes starting east of Osage heading further east (includes space for possible future Heartland Trail on north side)
Westbound followed by eastbound passing lanes between Nevis and Akeley
Project impacts
Tentative construction is planned to start later in the summer of 2014 and continue into 2015.  Construction will be done under traffic (allowing traffic to pass)
Environment Assessment Worksheet
The comment period on the Draft Environmental Assessment Worksheet ran from Dec. 23, 2013 through Jan. 22, 2014. The document can be accessed by clicking here (28 MB PDF). The "Findings of Fact and Conclusions" for the EAW, including public comments and responses, can be access by clicking here (5 MB PDF).

Cost estimate