Project information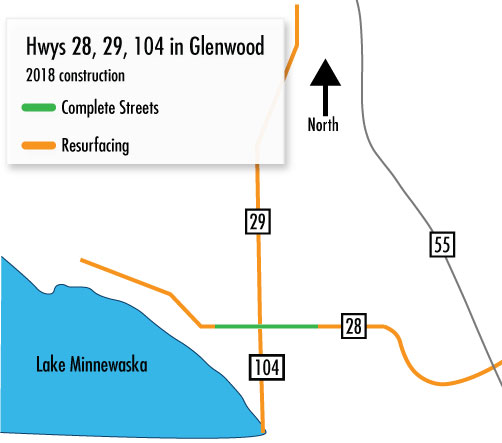 The Minnesota Department of Transportation, Pope County and the city of Glenwood are partnering for a 2018 resurfacing and reconstruction project on Hwys 28, 29 and 104 in the city.
The project will address pavement concerns, pedestrians accessibility (ADA) requirements, traffic flow, utility needs and boulevard improvements. In addition, six blocks of Hwy 28 in downtown Glenwood will be reconstructed using a Complete Streets concept.
Key project elements
Resurfacing of Hwys 28, 29 and 104 throughout Glenwood
Downtown Complete Streets reconstruction
New signal system
Sidewalk improvements & ADA accessibility upgrades
Hwy 28 grade raise near the Pope County Fairgrounds
Downtown utility replacement (city cost)
Complete Streets concept
Three-lane concept (two 12' thru-lanes and a 12' center left turn lane)
7' bike lane
7' amenity and sign zone
8 to 10' sidewalk
A current project layout for the downtown Glenwood portion of the project is available by clicking here.
Preliminary cost estimate