Future freeway
Reconstruct three miles of Highway 169 to a new freeway system through Elk River from Hwy 101/Hwy 10 to 197th Avenue, Sherburne County. Construction is tentatively scheduled to begin in 2023.
New! Sign-up for project email updates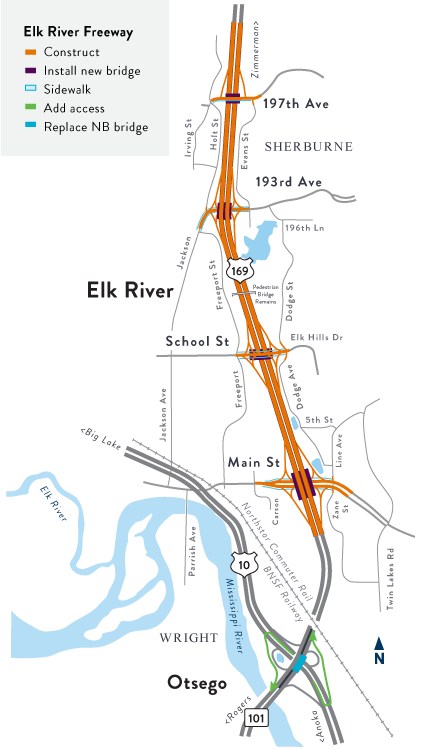 Summary of work
Convert to a freeway

Reconstruct all lanes and city street connections
Eliminate signals and construct new interchanges with full or partial access ramps, and bridges that span Hwy 169 at:

Main St
School St/Elk Hills Dr
Jackson Ave/193th Ave
197th Ave
Final interchange design to be determined. Examples: Cloverleaf, Partial Cloverleaf, Diverging Diamond, ect.

Improve pedestrian accessibility along city streets
Upgrade underground infrastructure and utilities
Improve mobility at the Hwy 169/Hwy 101/Hwy 10 interchange by removing signals and two median crossovers, and adding new turn-arounds east and west of the interchange on Hwy 10
Make other improvements as warranted
Replace bridge
MnDOT will also accelerate a project to replace the northbound Hwy 169/Hwy 101 bridge over Hwy 10. The estimated $3 million project will be advanced from 2025 to minimize travel disruption.

All information is tentative and subject to change.