Purpose of Study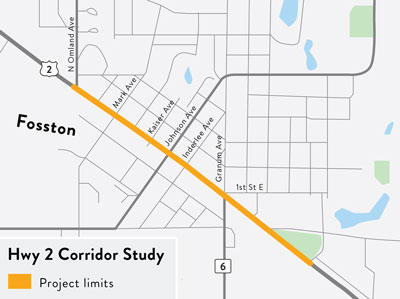 The City of Fosston is conducting a corridor study to evaluate the transportation and pedestrian needs of Highway 2 in Fosston. The locally led study will identify community concerns, and consider possible alternatives that could better suit business owners, motorists and pedestrians together.
The final recommended solution will serve as a long-term implementation tool moving forward for both the City of Fosston and MnDOT.
Community Review Panel
In order to work more closely with the community; local leaders, residents and business owners are working more directly with project staff throughout the study. This partnership allows for a direct connection to the community through a transparent and collaborative process. The committee will help to identify the current issues and create a local vision for the corridor. These neighborhood leaders will help ensure that community values are represented in the development and evaluation of project alternatives, while fostering conversations within the community.
This committee consists of a diverse cross-section of community representatives that will study the project details in depth and help to define the vision for the corridor.
Along with learning more about traffic safety/engineering concepts, they will:

Take a more in depth look at the current issue's
Prioritize community needs and preferences
Develop and research possible solutions
Cultivate and represent community members input
Evaluate and prioritize preferred alternatives
Partnership
MnDOT and its partners have committed to work with the Fosston community to ensure that the community's concerns and aspirations are directly reflected in the alternatives developed as part of the Highway 2 Study and to provide feedback on how the community influenced recommendations and decisions.