Public involvement
MnDOT has taken a very collaborative approach in developing the plans for this project. Even though it won't take place for 5-8 years it's important to take a holistic approach in identifying issues and designing a viable fix that considers all users. There are many opportunities to take part in this planning study.
Online survey
The virtual open house was open through June 25, 2021. Community members were able to provide feedback on the two newly proposed alternatives as well as prioritize various items along the corridor and focus on specific intersections. Click here to see the survey results.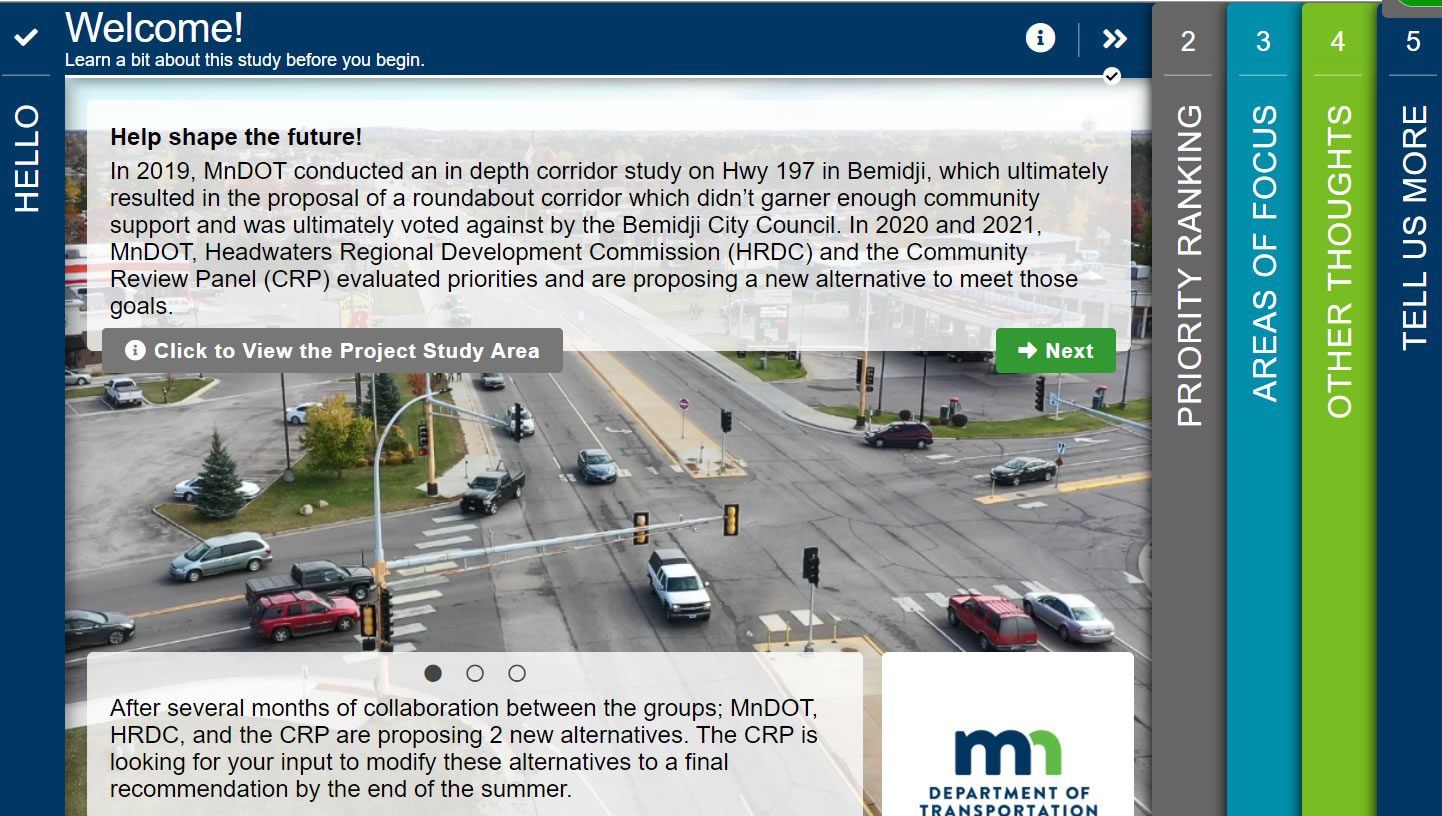 Public meetings
MnDOT will continue to conduct open houses in order to meet with constituents and provide updates throughout the visioning process.
2021 Public Engagement Events
June 2 at 8:20 a.m.: "Roundabout Wednesdays" on Mix 103.7, Listen live here.
June 4 at 12: 20 p.m.: "Chat about" on KB101, Listen live here.
June 6: "Ride for the Troops" event at Marketplace foods. Time: 9:00 a.m.-12:00 p.m.
June 18: Luekens Village Foods- 11:00 a.m -4:00 p.m.
June 19: Nymore Beach (Bike Bemidji Event) - 10:00 a.m.-3:00 p.m.
Business contacts
MnDOT, along with HRDC and CRP members, is currently meeting with each business along the corridor to discuss the two new alternatives proposed in 2021. Businesses have the opportunity to provide feedback and ask questions regarding the new alternatives.
Community Review Panel
The committee's purpose is to provide corridor improvement recommendations to the Minnesota Department of Transportation and the City of Bemidji. Over the course of the year, the committee will:
Establish priorities and develop a community vision for the corridor
Identify and study issues along the corridor
Learn traffic safety and engineering concepts
Develop, evaluate and recommend feasible alternatives
The HRDC selected committee members who represent diverse perspectives, including business owners, motorists; residents, bicycle and pedestrians, disabled users, transit, economic development, emergency response, planning, safety, engineering and local governments.
Email updates
A great way to stay connected to all happenings within the project is through emailed project updates. If you are not already signed up to receive these important updates, sign up.