Designing future Highway 197 improvements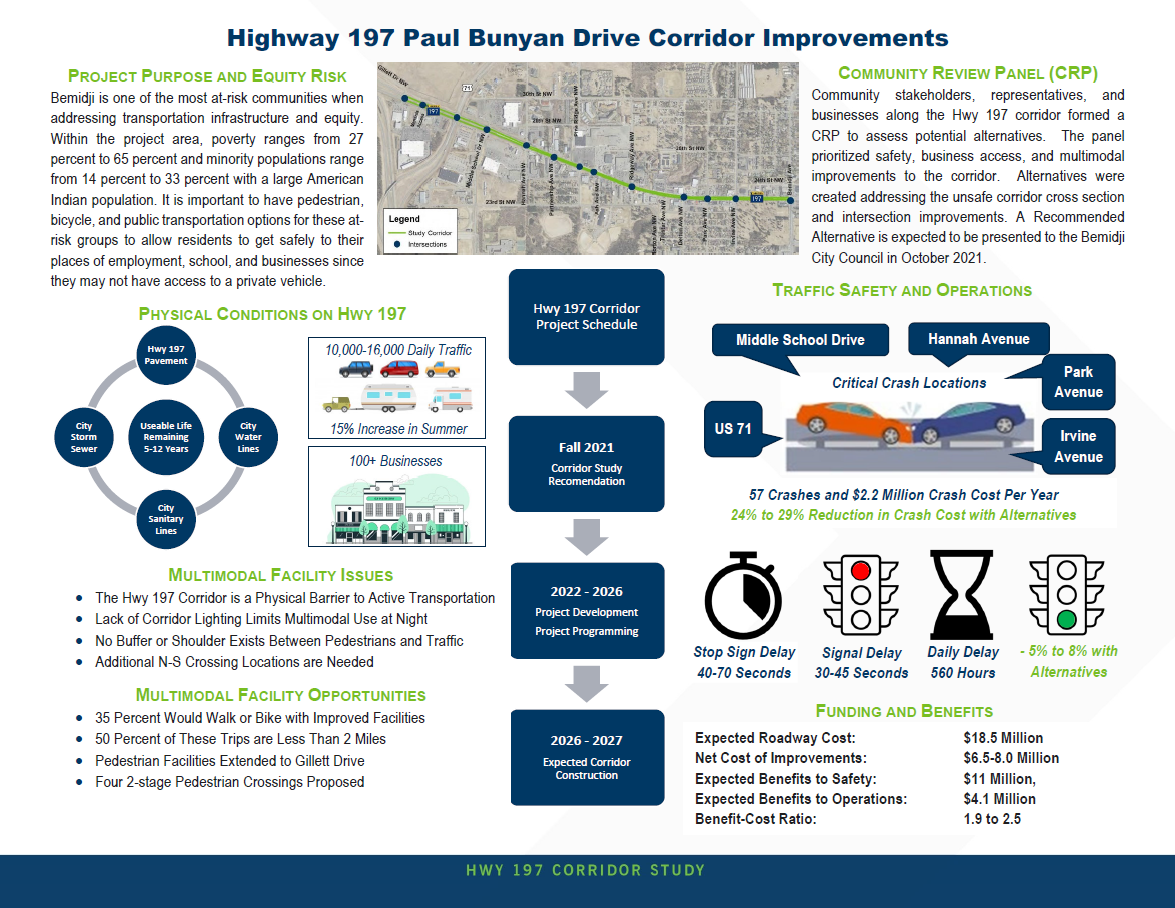 Notable Activities in December:
December 1 – Community Review Panel Meeting
After last month's meeting the City began a study of the side streets (Hannah Ave and Middle School Dr) in order to identify alternatives and how they would be affected by improvements to their intersection with Hwy 197.
This month's meeting began with the results of that study as City of Bemidji Engineer, Sam Anderson, and KLJ Engineer, Joe DeVore, presented the findings. The study found that there were three possible options that would be feasible (for the side streets, Hannah and Middle School). Two of those options paired best with roundabouts at the Hwy 197 intersections, and one that would work with traffic signals. Ultimately though, the study found that roundabouts at the Hwy 197 intersections provided more flexibility for future safety, access and congestion improvements on the Hannah and Middle School side streets.
The Community Review Panel conducted a poll to determine the groups preference for the Hwy 197 improvements. The results showed:

16 of 21 panel members preferred Alternative 1 (Roundabouts at the Hwy 197 intersections with Middle School Dr and Hannah Ave)
2 preferred Alternative 2 (Signals at those locations)
3 remained neutral or preferred No Build Conditions (i.e. do nothing)
December 20 – Upcoming Bemidji City Council Meeting
Project team will present the findings of the corridor study and seek council support to move ahead with the project development of Alternative 1. 
Monday, December 20th at 6:00 p.m. Join the virtual Bemidji City Council meeting here. 
Highway 197 Corridor Vision Study: 2021 Survey Results
Highway 197 Alternatives with Project Description
Background:
In 2019, MnDOT conducted an in-depth corridor study which ultimately resulted in the proposal of a roundabout corridor. That preferred alternative didn't garner enough community support and was ultimately voted against by the Bemidji City Council. This renewed effort has been an attempt to start over. Since a resurfacing project has to take place regardless, because the pavement will reach the end of its service life, MnDOT's goal is to also include multi-modal improvements that will increase the safety and vitality of the corridor for motorists, businesses, bicyclists and pedestrians.

Learn more about roundabouts in Minnesota here.

2020-21 Community Review Panel