About this project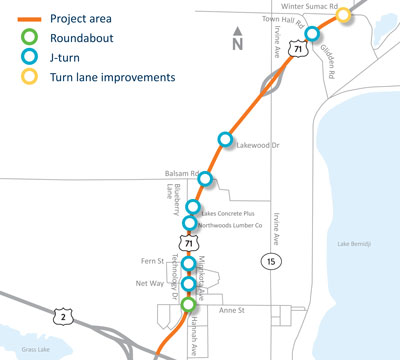 Construction begins
Construction began May 16 and last into October.
This is a complex construction project that requires a lot of different staging changes. Refer to the Construction page for an overview of the staging plans.
You can also check out this interactive construction staging map.
*These plans are presented as an overview and actual construction may have to be adjusted as needed.
Stay up to date
You can stay up to date throughout the project by:
Traffic Impacts
Summary of work
MnDOT plans to resurface a portion of Highway 71 and make intersection improvements at eight locations between Highway 197 and Winter Sumac Road. The highway is in need of long-term improvements to address intersection safety and aging infrastructure. Learn more about these improvements on the resources page.