Corridor study - Hackensack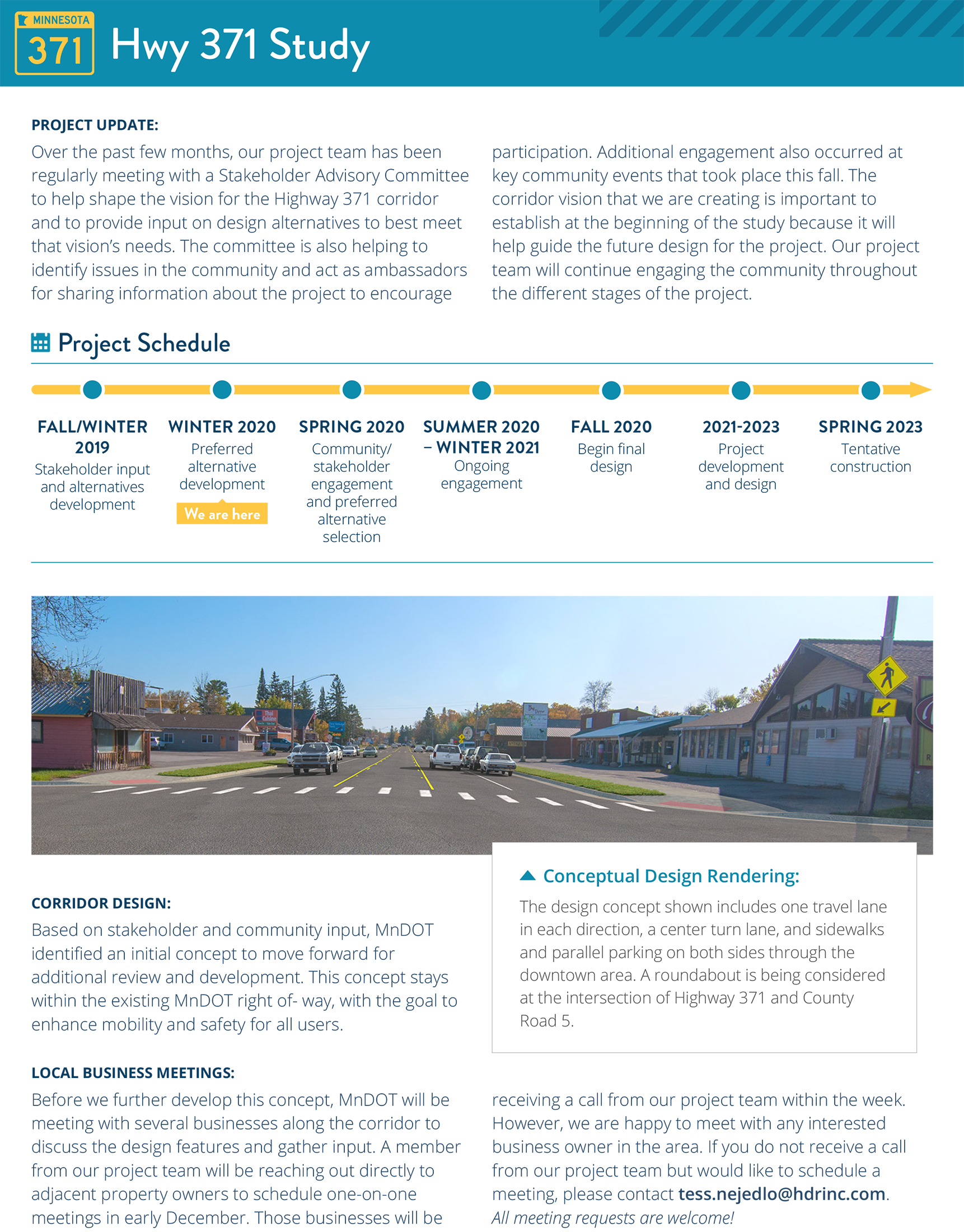 About the study
The Minnesota Department of Transportation is looking to improve Highway 371 through Hackensack. Throughout this study we are looking to reflect the current and future transportation needs of Highway 371 between County Road 40 and County Road 5. Construction isn't scheduled to take place until 2024.
Check out the Resources tab for additional project materials
Need for project
Improve the safety of Highway 371 for residents, businesses, motorists, pedestrians and bicyclists
Improve the safety of the County Road 5 intersection
Effectively reduce motorist speeds
Improve sidewalk and pedestrian facilities
Improve underground utilities and drainage
Stakeholder Advisory Committee
In order to work more collaboratively with the community, MnDOT sought out community leaders and volunteers to work directly with project staff in order to develop and evaluate different project alternatives. This panel consists of a diverse cross-section of community representatives that will meet regularly in order to study the project details in depth and will help to define the vision for the corridor.
Along with learning more about traffic safety/engineering concepts, they would:

Take a more in depth look at the current issue's
Prioritize community needs and preferences
Develop and research possible solutions
Cultivate and represent community members input
Evaluate preferred alternatives
Partnership
MnDOT and its partners have committed to work with the Hackensack community to ensure that the community's concerns and aspirations are directly reflected in the alternatives developed as part of the Highway 371 Study and to provide feedback on how the community influenced recommendations and decisions.