Learn more
Public Meeting
Stay up to date on the project by attending our weekly public meetings beginning June 8th. They will be held at 1 p.m. each Thursday at Deer River City Hall, 60 Second Street SE.
Project Begins
The detour begins Tuesday, June 6 and is located south of Highway 2 along the railroad tracks, between First Street SE and Fifth Street SE. Westbound traffic will continue to use Highway 2.
Access to businesses located in the work zone will be maintained throughout the project. Off highway parking areas will be located in the blocks adjacent to Highway 2.
Upcoming schedule
Completion of the temporary detour route
Detour begins Tuesday
Pavement removal of the south side of Highway 2 begins Wednesday
Utility work could start as early as Thursday on the west end of the project, moving eastward
About this project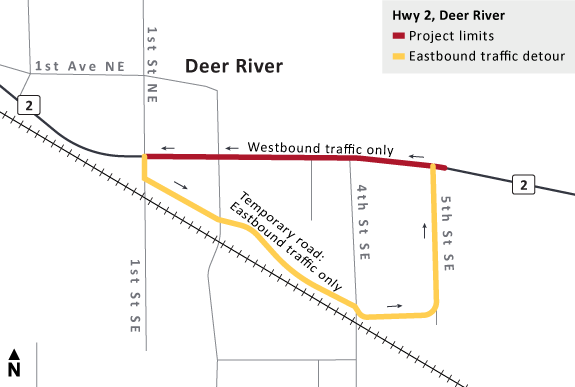 Summary of work
Resurface from 1st St SE to 5th St SE
City utility replacement
Sewer (storm, sanitary, water) replacement
Curb, gutter, sidewalks
Pedestrian ramps and audible signals
Traffic Impacts
Eastbound Highway 2 traffic is detoured onto a temporary road built to the south near the railroad tracks. The detour will remain in effect for the duration of the project. Westbound traffic is one way only and will remain on Highway 2. The westbound driving lanes will be shifted as paving crews move along the project.
We're in this together
The City of Deer River has partnered with MnDOT in order to replace city sewer and utilities throughout the project limits. During construction there will be inconveniences to your highway access and mobility. The contractor and MnDOT will work to minimize those impacts.
All businesses will be accessible throughout the project.
Brochure
Print your own copy of the Project Brochure as a PDF. Be sure to change the printing preferences to flip on the short side. Contact our communications staff for assistance.