Seeds Student Worker Program
MnDOT's Seeds Program provides paid college-level student worker positions to highly motivated minority or economically disadvantaged college students, students who are recently separated veterans, students with disabilities or female students in S.T.E.M or non-tradition fields of study.
Growing our own talent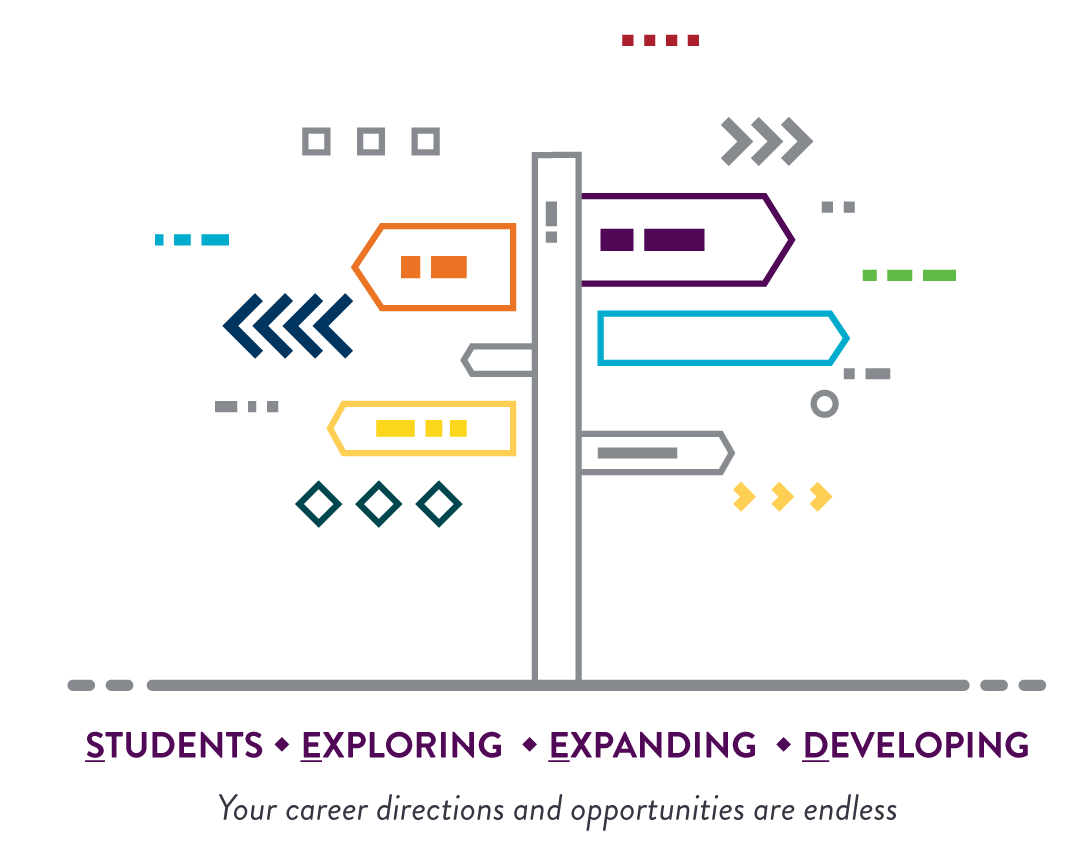 Seeds is not an acronym, but a concept for MnDOT growing its own workforce talent. The program is stylized by four icons and its signature multidirectional graphic. The icons include a graduation cap, multiple hands, a growing plant, and the State of Minnesota that reflect the programs focus of students, diversity, MnDOT's efforts to grow and develop its own talent, and the agencies commitment to the State of Minnesota. The multidirectional graphic which lists the words Students, Exploring, Expanding and Developing, represents the many career directions students can pursue.
MnDOT launched the Seeds Program in 1993 to help the workforce better reflect the communities MnDOT serves. Since then MnDOT has placed many successful program students into permanent, full-time positions.
As a participant in this program, students will gain firsthand knowledge and experience by working in the real world with professionals in a variety of fields. Day-to-day opportunities include participating in meetings and training classes, as well as networking with industry professionals in your chosen field of study.
Hours
Students may work up to 20 hours during the school year and 40 hours during summer and school breaks.
Pay
Student worker level positions starting hourly pay – $14.47
Student worker senior level positions starting hourly  pay – $15.73
Student worker levels are determined based on the students' qualifications, experience, and year of study.
Benefits
Students who are employed for six months or more may be eligible for the following:
Vacation time (may not be used during the first six months of employment)
Holiday pay
Sick leave
Mentoring program
Qualifications
To be considered for this program you must meet ALL of the following requirements:
Must be a college level student in one of the following categories: (1) minority (2) economically disadvantaged (3) recently separated veteran (4) student with a disability or (5) female student in S.T.E.M or non-tradition field of study.
Be legally eligible to work in the United States
Be a student at a college, university, technical or trade school taking a minimum of six semester credits or nine quarter credits
Be in pursuit of a major related to MnDOT's needs
Have a minimum GPA of 2.5 (3.0 for engineering majors)
Have at least one year or more left before graduation
*A minority student is defined as an individual who identifies themselves as an ethnic person of color.

**A recently separated veteran is defined as a veteran who has served in active military duty, on or after Sept. 11, 2001, and has been honorably discharged as shown on their DD214.

***An individual with a disability is defined as a person who has a physical or mental impairment that substantially limits one or more major life activities; has a record of such impairment; or is regarded as having such impairment.
****A female student in STEM or non-traditional field is defined as a person who identifies as female studying either science, technology, engineering or math fields. Non-tradition refers to labor intensive fields.
Application
We are currently accepting resumes. Read our application tips and apply! When submitting your resume, please include your anticipated graduation date and major. If applying under the Economically Disadvantaged criteria, please review income verification details as part of your application.