Improving interchange safety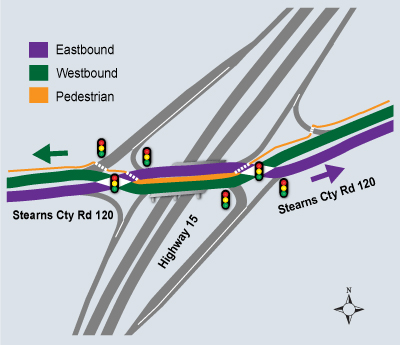 MnDOT is constructing Diverging Diamond Interchanges throughout the state. These interchanges:
Cut overall traffic delays up to 60 percent
Improve safety by eliminating standard intersection geometrics and conflict points
Provide better traffic operations and show some excess capacity 20 years into the future
Read more about other alternative intersection designs.
Recent DDI projects
County Rd 96 over I-35W in Arden Hills
Elk Run
Navigating a DDI
Traffic crisscrosses at either end of the bridge, so instead of making hard left turns, drivers veer to the left for access. Pedestrians cross to the middle of the bridge and walk in the middle between the eastbound and westbound lanes with protective barriers on either side.