Specialty and competitive programs
Weigh Station Capital Improvement Program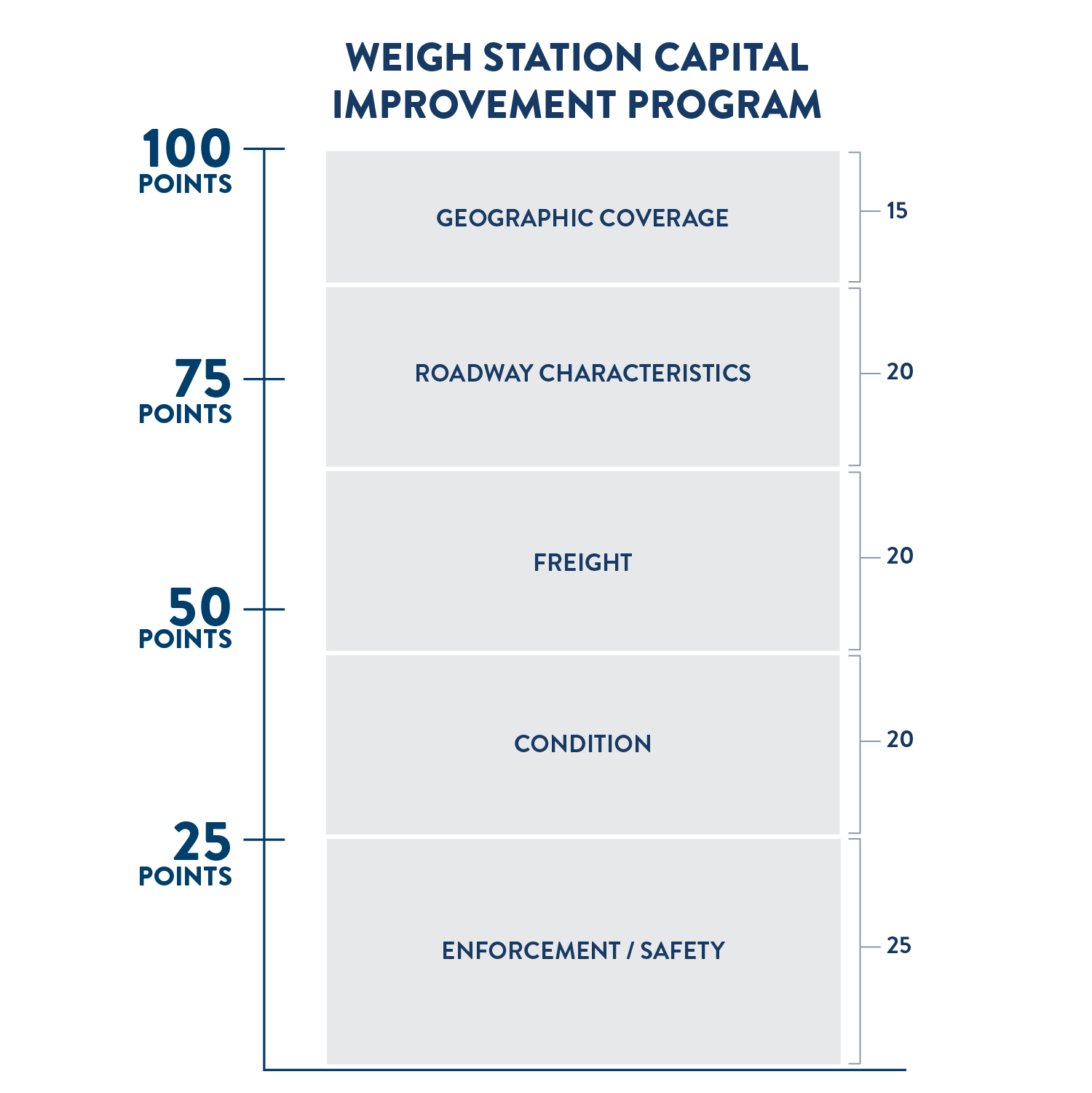 The Weigh Station Capital Improvement Program funds the installation, repair and replacement of the physical infrastructure necessary for the enforcement of state and federal weight and size commercial motor carrier laws. MnDOT is responsible for the physical infrastructure used to perform enforcement. The Minnesota State Patrol, a division of the Minnesota Department of Public Safety, is responsible for operations and carrying out of enforcement of the laws. The two units of government coordinate closely to identify operational and capital improvements.
Projects are solicited through MnDOT District offices and through input from the Weight Enforcement Unit of the State Patrol. MnDOT and the State Patrol are developing a 10 year Weight Enforcement Investment Plan that will identify and prioritize needs throughout the state. The plan will be the basis for project identification and selection.
What's been selected?
Related links
How the projects scored
The construction costs shown on this list represent a rough estimate based on limited information available at the time selection decisions were made. Actual construction and delivery costs will change over time as projects go from a concept through the project development process and are eventually constructed.
Last updated October 2021
 Score 
District
Location
Description
 High level construction cost estimate for planning purposes 
Year planned (FY)
101
4
I-94
Inspection building with pit and brake tester @ Red River
 $1,400,000
2022
101
M
I-94
Inspection building with pit and brake tester @ St Croix
 $1,400,000
2023
100
6
I-35
Add Tire Anomaly system at Clarks Grove WS in the driving lane (only)
 $300,000
2022
98
4
I-94
Integrate Tire anomaly system into the sorter at Red River Weigh Station.
Also add electronics to test Direct WIM enforcement.
 $275,000
2022
98
M
US 52
Replace Kistlers and add Tire Anomaly to Mettler Toledo WIM on US 52 just north of Southview Blvd
 $400,000
2025
98
4
I- 94
Tire Anomaly to I-94 Weigh In Motion (WIM) near Moorhead. (IRD) Drive Lane Only
 $350,000
2025
92
M
I-94
Integrate Tire anomaly system into the sorter at St Croix Weigh Station.
 $300,000
2025
91
M
US 8
Provide Funding to the District Project to add a WIM/VWS and pulloff pavements
 $700,000
2025
84
7
I-90
Inspection building with pit and brake tester @ Worthington
 $1,400,000
2024
82
M
I-35
Gate and Access driveway at Forest Lake Weigh Station.
 $150,000
2022
76
2
US 2
Inspection building with pit and brake tester @ Erskine
 $1,400,000
2024
74
7
I-90
Add Tire Anomaly system at Worthington Weigh Station on ramp.
 $300,000
2025
73.5
6
US 14
Weigh in Motion Virtual Weigh Station on US 14 approximately 1 mile west of SW 52nd Ave in Steele County
 $350,000
2025
71
2
US 2
Full Truck Scale at Erskine Weigh Station
 $600,000
2025
69.5
6
US 61
Weigh in Motion Virtual Weigh Station on US 61 southbound near MN 19 in Goodhue County
 $350,000
2023
Previous years