Visit our public input opportunity
Provide your issues, concerns, and experiences on Hwy 77/Cedar Ave. Take a survey, review information, and provide your feedback!
About this study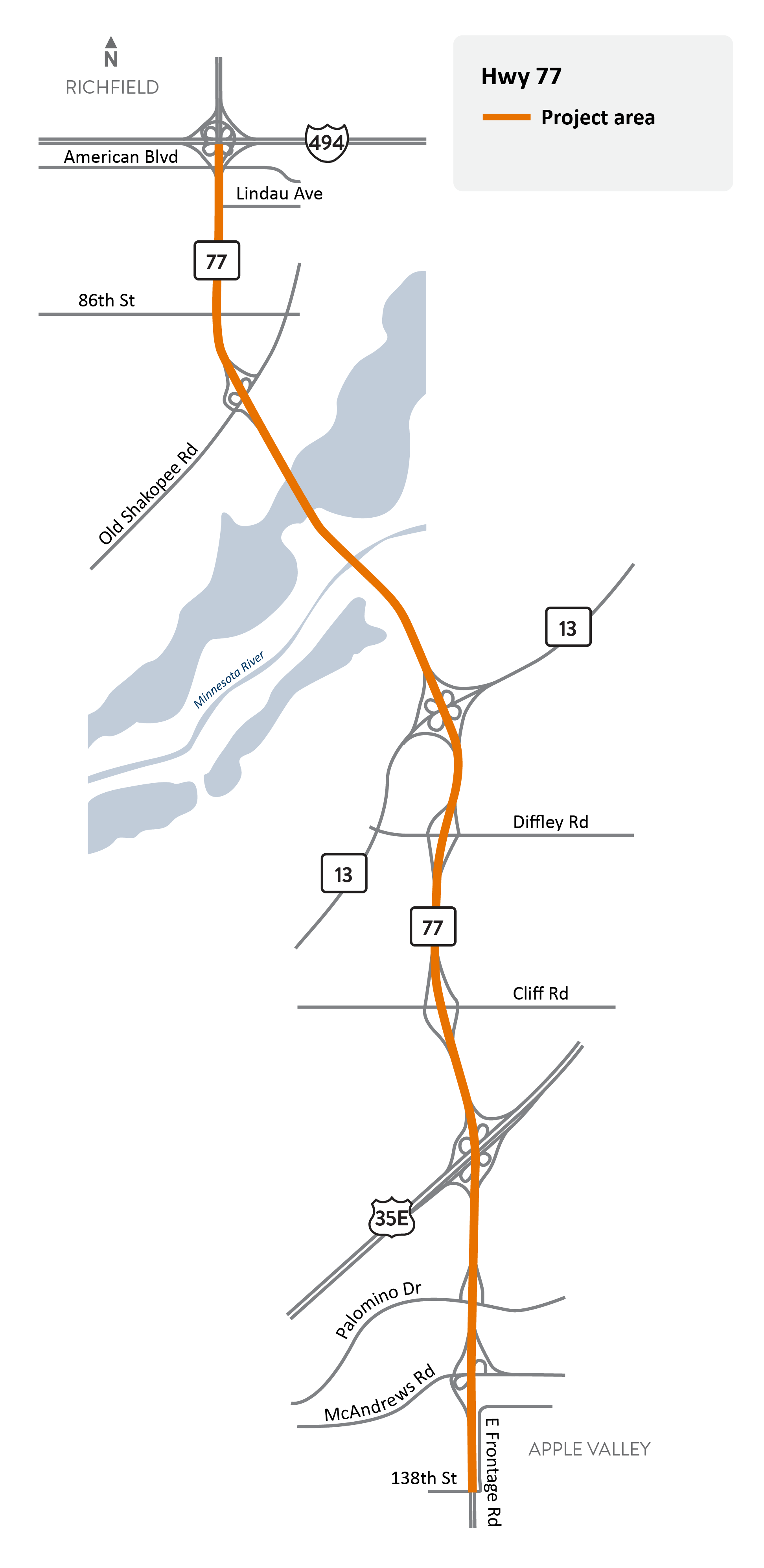 Evaluate Hwy 77/Cedar Ave. between 138th St. in Apple Valley and I-494 in Richfield to identify congestion mitigation concepts. The concepts developed during the study will be evaluated against multiple criteria to determine feasibility. The study will generate a Phasing & Implementation Plan to document how and when improvements may be needed on the Hwy 77 corridor, with the goal of incorporating improvements into the pavement project tentatively scheduled for 2026.
Summary of work
To engage, inform, gather input, propose and establish ongoing project coordination meetings with stakeholders including local businesses, residents and others.
Online public input opportunity
We are committed to coordinating with local leaders, businesses, and community members to gather input to better understand safety and mobility needs along Hwy 77/Cedar Ave.
Provide your feedback on the public input survey
This round of public input answers these questions
What is the study?
What is the purpose and need?
What are some possible solutions?
How can I give my input?
What is the study?
Ongoing travel delays, crashes, and reliability issues
Continued stakeholder interest
Continued interest to use E-Zpass. MnPASS is now E-Zpass.
Why now?
MnDOT has upcoming pavement projects
Better traffic data available
Local agency partnership
What is the purpose and need?
"Need" describes the transportation problems to be addressed
"Purpose" describes the solutions and intended results
This study's purpose is understood to be:
Improve travel and travel time on Hwy 77
Enhance mobility for people walking, biking, driving, and using transit
Address bridge and pavement conditions
Four needs were identified for Hwy 77:

Primary needs
Pavement condition
Mobility
Secondary needs
Bikeability/walkability
Bridge condition
Are there any needs you feel were missed? Tell us by taking the survey.

The full draft purpose and need technical report is available by request from MnDOT. Please contact us.


What are possible solutions?
Based on our understanding of the traffic and other transportation problems on Hwy 77, the technical team has developed three options that could meet the project needs. We will continue to develop these options as the project continues.

Possible improvements to pedestrian and bicycle crossings of Hwy 77 have not yet been identified.

Option 1: Add a third lane in places where there are only two
Keeps current transit advantages
Reduces congestion south of the river but increases congestion north of the river
Lowest cost of the three options
Option 2: Adds a new lane to the entire corridor
Keeps current transit advantages
Reduces most congestion throughout the corridor but still has reliability issues
Mid-high cost of the three options
Option 3: Adds an E-ZPass (MnPASS) lane to the entire corridor. E-ZPass is for use by buses, carpools, motorcycles or people who choose to pay.
Increases transit advantages and contributes to reduced emissions by encouraging transit and carpooling
Reduces some congestion throughout the corridor and provides the best reliability
Highest cost of the three options
What do you think? Are there other options that you think could address the identified needs? Tell us by taking the survey.


How can I give my input?
Submit a comment using the comment form in the sidebar of this webpage