About the project
Project summary
Remove the bridge over Sulphur Lake in Morton
Remove bridge abutments down to the ground line, then cover with stone riprap to minimize ground disturbance
Remove old pavements and cover with topsoil and seeded to restore to a natural condition
Retain a short section of the old roadway and convert to gravel to connect the Sulphur Lake site with the DNR river access parking area
Traffic impacts
Drivers on Hwy 19, and people walking and biking through the park, are asked to use caution and watch for heavy equipment and crews entering and exiting the demolition area.
Project update
Wednesday, Nov. 24, 2021
Crews began moving heavy equipment, including cranes, to the site beginning Tuesday, Oct. 19.
Crews continue with demolition work and removals.
Demolition and riprap placement over the old abutments will take place into December.
The project will then be suspended until spring when crews will remove old pavements and restore the area to a natural state.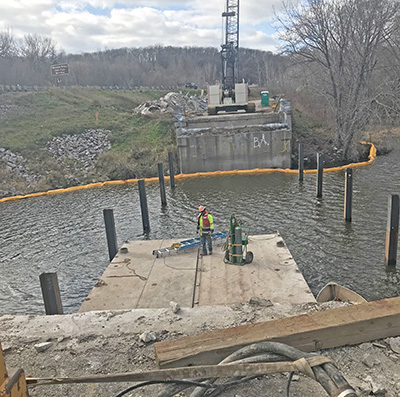 Accessibility and state highway projects
All MnDOT projects--both new construction and rehabilitation projects -- must include an evaluation to ensure compliance with the Americans with Disabilities Act.
This project is a bridge removal and does not include any ADA accommodations.
Contacts