Information is tentative and subject to change until a contractor is on board.
Traffic, work plans
Begins summer 2022
Expect roadwork on Hwy 371 from south of Gull Lake Dam Rd. (Crow Wing Co. Rd. 125) to north of Green Gables Rd. (Crow Wing Co. Rd. 126) from summer to fall in 2022.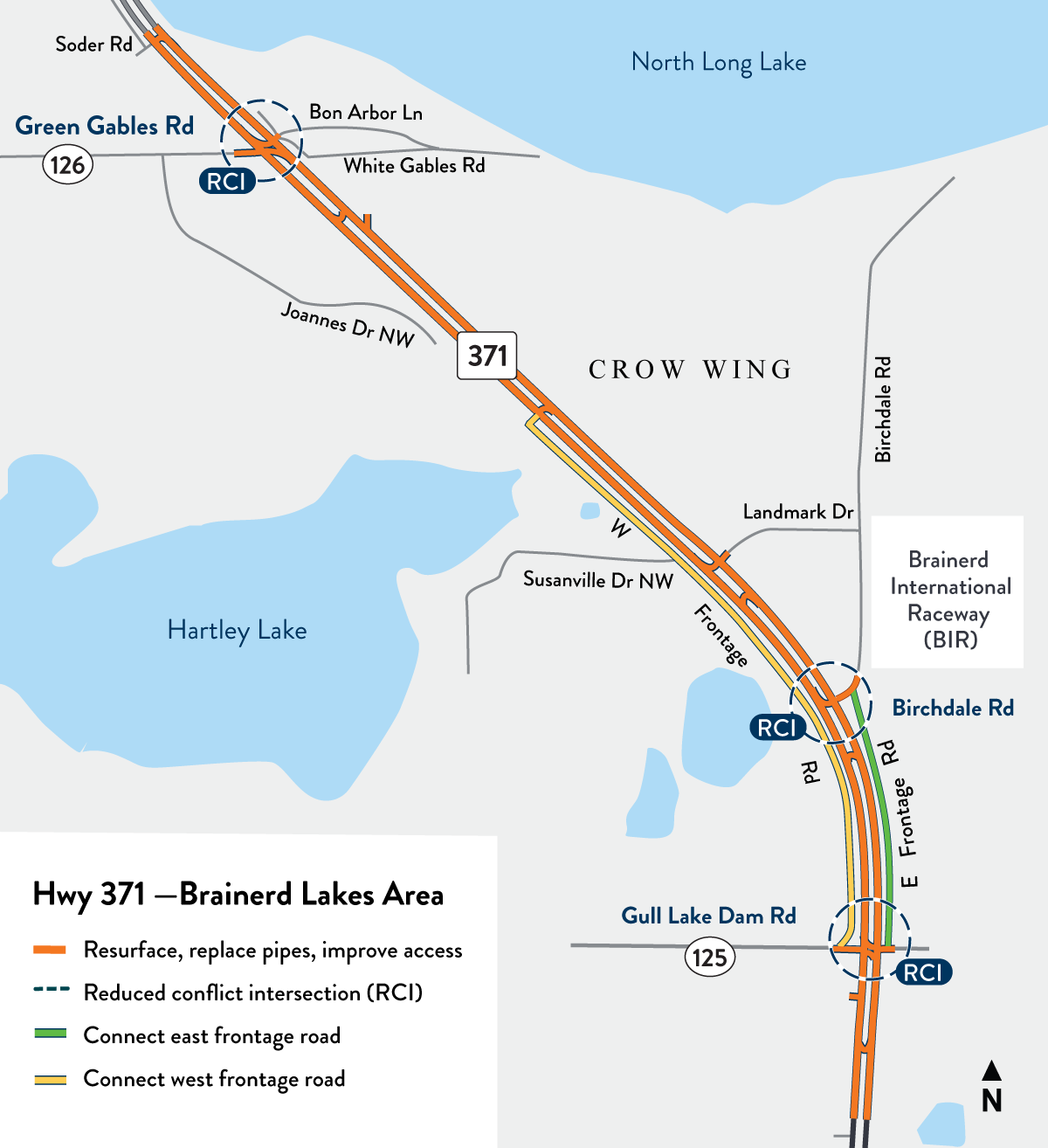 Overall crews will work inside-out. First replace pipes, then reconstruct the mainline from the median to the outside shoulder and adjacent entrances. Once mainline is done, crews will begin on the east frontage road at BIR, then the west frontage road.
Future traffic impacts
Weekends - Open to four lanes
Weekdays - Lane closures

Planned night work (Sun-Thu) with head-to-head traffic on one side of Hwy 371 as crews replace underground pipes on the other side

Overall

Periodic lane closures at off-peak hours
No shoulders, narrow lanes
Reduced speeds and law enforcement on site
Lanes shifts within work zone

Access will be open to businesses, residents and visitors, however expect changes and use of alternate accesses:

Hwy 371 will be open to BIR at Birchdale Rd. or Landmark Dr.
Hwy 371 access will close temporarily at Green Gables Rd. to replace a pipe (5-8 days). Tentative detour to use Hartley Lake Rd. and Gull Lake Dam Rd. Detour map (PDF)
Expect use of flaggers while crews work at side roads, entrances or frontage roads along Hwy 371
Schedule at a glance
Timeframe
Hwy 371 impacts
Work
Fall 2021-Spring 2022
Periodic lane or shoulder closures
Prepare work areas
Summer 2022
Overnight weekdays: One lane, head-to-head traffic on either side of the Hwy 371
Replace underground pipes
Summer 2022
Weekdays: Hwy 371 reduced to one lane of traffic at times, no shoulders
Weekends: Hwy 371 open, but no shoulders
Reconstruct median area, inside shoulder and left lane; Then outside right lane, shoulder and adjacent entrances
Fall
Use of alternate accesses from/to Hwy 371
Reconstruct east frontage road; then west frontage road
Fall or spring 2023
Shoulder closures
Wrap up project and establish turf