Public involvement
169 Redefine open house to focus on local impacts for 2022 work
Monday, Oct. 11 at Elk River City Hall
You're invited to learn about the 169 Redefine project and meet project staff, including MnDOT, at Elk River City Hall, at 13065 Orono Parkway on Monday, Oct. 11. To streamline inquiries, business owners are welcome from 2:30-4:30 p.m., and residents from 4:30-6:30 p.m.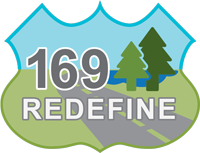 The project team will have the final design and visualizations available for viewing for the 169 Redefine project, and will focus on answering questions about the local traffic impacts expected to come with the 2022 construction of this multi-year project. 2022 construction will:
Close 197th Ave. at Hwy 169 to construct a new partial access bridge interchange.
Reconfigure accesses to/from the Hwy 10/169/101 interchange, and reconstruct the northbound bridge over Hwy 10.
A public open house like this one, will take place annually in anticipation for the following year's work on 169 Redefine. Visit the traffic plans, work page for construction plans by year.
Open house hosted by the City of Elk River

Held
MnDOT held noise wall meeting online Sept. 1, 2020
City of Elk River public hearing for municipal consent on the final preliminary layout at the city council meeting on Aug. 17, 2020
Elk River Chamber hosted an online businesses. MnDOT and the City of Elk River gave a project update on May 13, 2020.
Public open house held at Elk River City Hall on Oct. 29, 2019.