Take a look into the future
Are you interested in learning more about what MnDOT has planned for the interstates, and U.S. and state highways in Minnesota?   
CHIMES provides a searchable database of information on upcoming construction projects, including projects by region in the Work Program which is MnDOT's managed projects in the State Transportation Improvement Program and on the Capital Highway Investment Plan. This database does not include projects that are on county, city and local roads. Users can search for projects by county, region, year, funding source and more. Check out our Quick Reference Guide (PDF) for the new CHIMES application.
Example
Let's use a rest area replacement project on westbound Highway 71 as an example of the kinds of project information users can find on CHIMES:
Projects listed on this main CHIMES search screen include the following information:
the state project number
the region in which the project is taking place
the lead agency responsible for the project
a brief description of the project
the program code for the project
its estimated cost
years of construction
main route aligned to the project
Looking for more?
Click on the state project number for the project you are interested in, you'll be able to get an overview of work, funding history, and amendment history.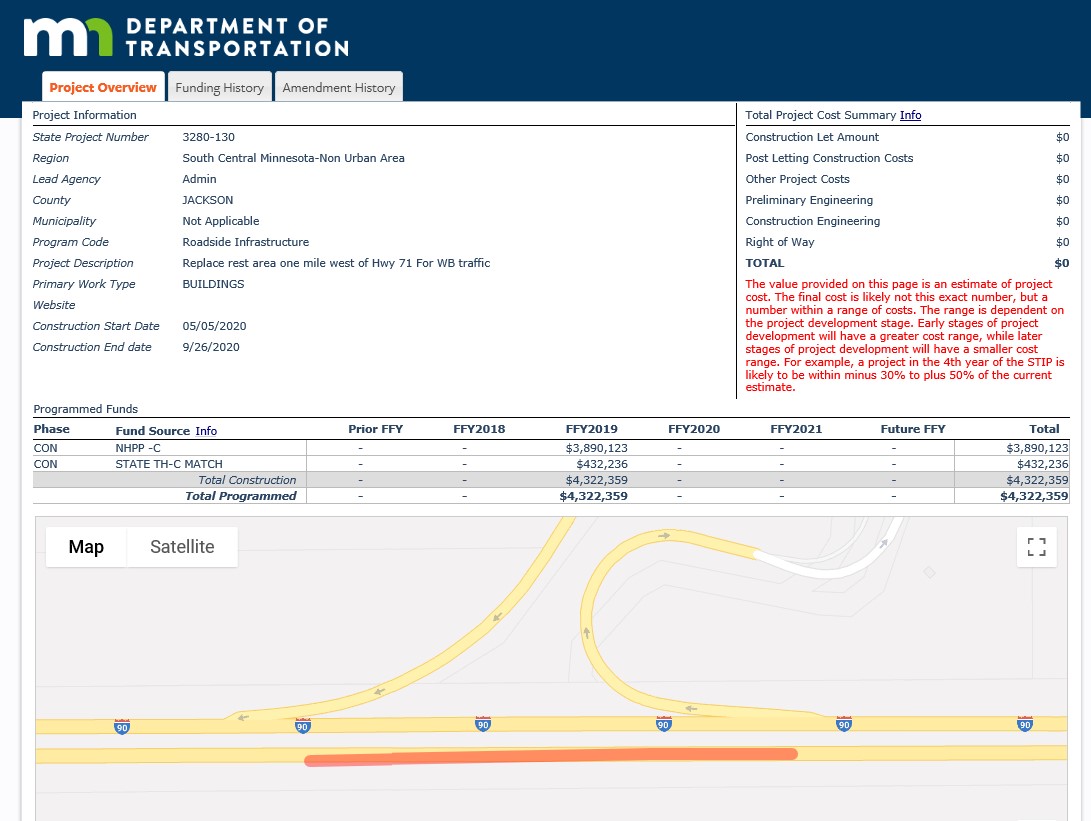 What do some of these things on the right mean?
Construction Let Amount
For Trunk Highway projects this is updated to show the amount of the annual estimates. Upon award of the construction contracts, the last estimate is replaced with the construction contract award amount. For all other projects enter Total amount of the agreement with the sub-recipient of federal funds, including any matching funds and non-participating funds.
Post Letting Construction Cost
For Trunk Highway projects only. Includes any changes to the initial construction contract award amount. Post Letting Construction costs include supplemental agreements, cost overruns, escalation clauses; settlements; etc.
Other Project Costs
For Trunk Highway projects only. Other Elements are for agreements that support the construction phase of the project and are for work not included in the construction contract. Examples include State furnished material, Municipal Agreements, Utility work and Traffic Control.
Preliminary Engineering
The costs incurred to get the project ready for construction, through project award/award encumbrance date, including internal salaries; consultants; equipment used; materials; and allowable additives.
Construction Engineering
All engineering and oversite costs incurred during the construction phase of a project, from the date of award/award encumbrance through final project closeout, including internal salary, consultants; equipment use; materials and allowable additives.
Right of Way
All the costs associated projects of Right of Way acquisition, including property settlement; internal salaries; consultants; equipment used; materials; and allowable additives.
For more definitions please see Definitions A-Z (PDF).