State Entry Signs Map
Click on Map to Enlarge
Entry Sign Quick Links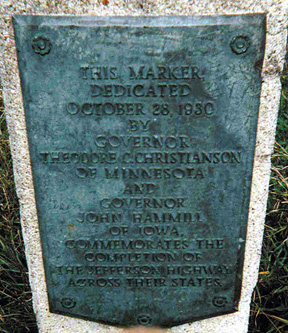 State Entry History
Since the early 1930s MnDOT has paid special attention to welcoming travelers to the State of Minnesota.
1930's
Through the years a variety of sign types and landscape designs have been installed at entry points along Minnesota's borders. In addition to these entry signs, some border crossings were identified by state line markers. The remnants of two of state line markers appear at the top of this page.
Although few records remain, the first significant statewide effort to erect entry signs at major trunk highway border crossings grew from a larger movement in Minnesota for roadside development. In 1931 and 1932 MnDOT (formally known as the Highway Department) organized a Roadside Development Conference in which a number of civic organizations participated. Acting on recommendations from the Highway Department, the Legislature enacted laws to guide the development of Minnesota's roadsides. These laws included advertisement regulation, preserving trees on state-owned lands and encouraging tree planting on private lands. Throughout the 1930's the Highway Department, in partnership with civic organizations and federal agencies, did extensive work. Projects included parking areas, turnouts, stone concourses and overlooks, picnic grounds, landscaping, and installation of historic markers.
1940's
Roadside development efforts continued into the 1940s and included constructing state line markers. Most of these were installed along the southern border of Minnesota. The work done during this time is described in the Highway Department's Biennial Report of 1940-1942 as follows:
State line markers were also constructed at the main entrances to the state on important trunk highways. These markers were uniform, being constructed of a stone pylon, pyramidal in shape and supporting a timber cross arm from which is suspended a plaque with the outline of the state inscribed with the words "Welcome to Minnesota". These markers were landscaped and for a quarter of a mile along the highway the areas were cleaned up and seeded to Kentucky blue grass so as to make an impressive and inviting approach into Minnesota at these points.
Sixteen of these state line markers still stand and have been determined eligible for listing on the National Register of Historic Places. Fourteen were constructed by the National Youth Administration (NYA) during the Depression Era between 1940 and 1942. One was constructed by the Works Project Administration (WPA) in 1942. Another was built by the Highway Department's "Maintenance Labor" in 1943. Stone used in construction at each site was indigenous to the area.
1960's
In the 1960's the State focused its resources on developing the interstate highway system, resulting in less attention to the state entry signs and roadsides. By the end of the decade, some of the original stone entry markers had been removed. The remaining markers were badly deteriorated.
1970's
In the 1970's maintenance crews began to replace damaged wood sign panels on the entry markers with easy-to-maintain metal signs. Similar to other highway signs, the metal signs had white text and border on a green background. Markers and wood panels were repaired and altered on an on-going basis resulting in great variation between sign types and styles. In 1975 the Task Force on the Aesthetic Environment, under the direction of then Lt. Governor Rudy Perpich, reviewed the state entry signs and advocated that a new image for state entry signs be developed. The task force recommended that as part of the nation's Bicentennial celebrations the State legislature renew all of Minnesota's entry signs. In 1977 MnDOT, in cooperation with the Lt. Governor's office, funded the design, fabrication and installation of eleven new Type I entry signs.
1990's
The 1990's saw a complete renovation of all state entry signs and sites. In 1993 MnDOT conducted an inventory of all state entry signs and identified four types of signs in use. The State Entryways Rehabilitation Program was initiated in 1994. Sixteen of the State's pre-1955 state entry stone makers were studied and determined to be eligible for listing on the National Register of Historic Places. Restoration of these historic entry markers began that same year. In 1996 MnDOT sponsored a University of Minnesota student design competition to create a new theme for Type I Minnesota entry signs. The winning design by Amy Bower became the basis for the family of three state entry sign types in use today. With work underway to restore sixteen historic sites and twelve Type I entry signs under construction, MnDOT identified a need in 1997 to upgrade the design and landscaping of all 65 state entries. By 1999 MnDOT had completed restoration of sixteen historic signs, construction of twelve new Type I signs and the redesign and upgrade of 33 Type III signs that welcome motorists to the state of Minnesota.