About Minnesota's ports and waterways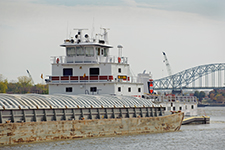 Minnesota's marine freight system - including river and lake ports, commercially navigable waterways and related infrastructure - plays a vital role in the state's multimodal freight transportation system, and in the economic competitiveness of Minnesota's communities. The Mississippi River provides access to river ports to the south and the Gulf of Mexico via New Orleans; the Great Lakes-St. Lawrence Seaway provides access to other ports along the Great Lakes to the Atlantic Ocean.
Three ports on Lake Superior and four ports on 195 miles of the Mississippi River system provide essential transportation connections and access to national and international markets. MnDOT is identifying opportunities, challenges and strategies to improve movement along this marine freight system.