Research Topics
Resources
Organizations
Benefits of Mr Testing
Measure of fundamental material property
Dynamic load testing similar to traffic loading
Essential input in mechanistic-empirical pavement design
Mr Summaries
Field Modulus Measurements
For more information:
Shongtao Dai, Road Research
John Siekmeier, Road Research
Luke Johannek, Road Research
What is Resilient Modulus?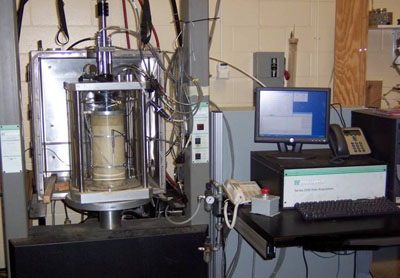 Resilient Modulus (Mr) is a fundamental material property used to characterize unbound pavement materials. It is a measure of material stiffness and provides a mean to analyze stiffness of materials under different conditions, such as moisture, density and stress level. It is also a required input parameter to mechanistic-empirical pavement design method. Mr is typically determined through laboratory tests by measuring stiffness of a cylinder specimen subject to a cyclic axle load. Mr is defined as a ratio of applied axle deviator stress and axle recoverable strain. Learn about the MnDOT Resilient Modulus Testing Protocol and Data Quality Control Criteria.
Active Projects
Best Value Granular Material for Road Foundations Work Plan Presentation
Subgrade Stablization ME Properties Evaluation and Implementation Proposal
Completed Projects - Not Yet Published
Hydraulic, Mechanical, and Leaching Characteristics of Recycled Materials
Use of Fly Ash for Construction of Bituminous Roads
Resilient Modulus Publications
Investigation of Stripping in Minnesota Class 7 (RAP) and Full-Depth Reclamation Base Materials Report
Pavement Design Using Unsaturated Soil Technology Report Technical Summary Presentation

Resilient Modulus and Strength Of Base Course With Recycled Bituminous Material Report Technical Summary

Moisture Effects on PVD and DCP Measurements Report
Preliminary Laboratory Investigation of Enzyme Solutions as a Soil Stabilizer Report
Small Strain and Resilient Modulus Testing of Granular Soils Report
A Laboratory Technique for Estimating the Resilient Modulus of Unsaturated Soil Specimens from CBR and Unconfined Compression Tests Report

Resilient Modulus of Minnesota Road Research Project Subgrade Soil Report

Resilient Modulus Testing of Materials from MnROAD, Phase I Report