Details about the Logo Sign Program
Logo Signs are located on interstate highways and a few other freeways.They are a way for eligible businesses to advertise their motorist services to the traveling public. Motorist services are defined by the Federal Highway Administration and include gas, food, lodging and camping.
For information on national logo sign programs, contact Motorist Information & Services Association (MISA) at 503-585-1144 or go to www.misaonline.org.

For statutory authority, read Minnesota Statutes §160.80, subdivision 1

For information on Interstate Logos, Inc., go to www.interstatelogos.com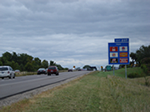 Does my business qualify and how do I apply?
Contact Dave DeSutter, General Manager of Minnesota Logos, Inc.
201 W. Travelers Trail, Suite 230
Burnsville, Minnesota 55337
952-895-8079 or 1-800-769-3197
ddesutter@interstatelogos.com

Or, for more details/criteria, visit www.minnesota.interstatelogos.com

Is there a distance requirement?
Yes. Rural businesses must be located within 15 miles of the interchange. Urban businesses in the Minneapolis/Saint Paul area must be within 1 mile for gas; 2 miles for food; 3 miles for lodging; and 10 miles for camping.


How long can my business remain on the sign?
Businesses sign a 1-5 year lease, which is renewable. However, if another business that's closer to the interchange wants to advertise, the farthest similar-type business is bumped off.

What else should I know?

An interchange may have up to 4 signs per direction, if space allows.
Signs are spaced according to engineering guidelines.
A sign may have up to 6 logos.
Mainline signs depend on whether or not there is space for ramp signs and trailblazers.
Some interchange configurations are not eligible for logo signs.
A mix of services on a single sign may limit certain businesses.

How do I find out more about logo signs?
Contact:

Heather Lott
Minnesota Department of Transportation
1500 West County Road B2, MS 725
Roseville, MN 55113
651-234-7371

Frequently Asked Questions
Who can advertise on logo signs?
GAS, FOOD, LODGING and CAMPING businesses may advertise on logo signs. These businesses provide essential motorist services, according to the Federal Highway Administration.
Can a logo sign be installed on the highway near my business?
Logo signs can be installed on interstate highways and certain freeways in the Minneapolis/Saint Paul area. Other highways are ineligible. The signs are located at interchanges, not intersections.
How much does it cost?
$45 / month / direction plus
$10 / month / ramp sign plus
$10 / month / trailblazer

In addition, businesses provide their own logo sign(s), manufactured according to specifications. They may be purchased from Minnesota Logos, Inc. or from any sign company.
What is a trailblazer?
A trailblazer is a small sign on a local crossroad that shows motorists where to turn to reach your business. Not all businesses need a trailblazer; some need 2 or more.
What criteria does my business have to meet?
Businesses must meet certain basic criteria, such as:
Hours of service
Restrooms, telephone, parking, drinking water
Staffed operation
State or local licenses
On-site food preparation; seating
On-site signage
No discrimination or cover charge