This site generically illustrates and describes Typical Landscape Corridor Treatments as MnDOT's Conceptual Vegetation Types with alphabetic designations and combinations.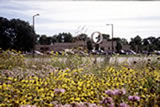 Use of Conceptual Vegetation Types is not intended or appropriate for site-specific and detailed landscape design development or final design plans.
The Conceptual Vegetation Types (A thru S) described and illustrated, are not intended to preclude additional Conceptual Vegetation Types to address specific needs (ecotone restoration, etc.)
MnDOT utilizes descriptive and illustrative Conceptual Vegetation Types in preliminary planning and project development for the following purposes:
To identify and illustrate approximate locations and massing areas of conceptual landscape treatment and vegetation type

alternatives for preliminary planning and aesthetic design guidance activities that seek public and stakeholder support and acceptance. This level of conceptual development is sufficient to estimate budget, cost participation and maintenance requirements.
To develop landscape design concept plans, as early as possible in the project development process, to graphically communicate landscape design commitments and intent (mitigation and opportunity areas) to scale in an effort to facilitate coordination with other functional areas to minimize future conflicts (soil mgmt., geometrics, right of way, utilities,

storm water mgmt., etc.) and to preserve the ability to satisfy design commitments and intent with future landscaping projects.
To help integrate landscape and aesthetic considerations and decision-making early and continuously in the project development process to maximize cost-effectiveness, process streamlining and successful outcomes that balance and satisfy public and stakeholder objectives. The ability to maximize opportunities, cost-effectiveness and design excellence are frequently lost or compromised if landscape and aesthetic considerations are not integrated early and continuously in transportation project development … they should not be "tack-on" elements.
---
The Typical Landscape Treatments files are presented here in Portable Document Format(PDF). You may use Adobe Acrobat Reader to view, print, or download each file. If needed, Acrobat Reader software can be downloaded free of charge from Adobe.
Description
Size

Type A

Mowed Turf Grass
269 KB

Type B

Short Native Grass
416 KB

Type C

Tall Native Grass & Wildflowers
439 KB

Type D

No Mowing & Volunteer Growth Naturalizing
444 KB

Type E

Mixed Wetland Seedling & Seeding
439 KB

Type F

Mixed Seeding/Seedling/Sapling Reforestation
471 KB

Type G

Deciduous Vines on Fences
408 KB

Type H

Deciduous Vines on Walls
447 KB

Type I

Boulevard Trees
493 KB

Type I
Overhead Lines

Ornamental Boulevard Trees
378 KB

Type J

Deciduous Canopy Tree Massings
439 KB

Type J, L & M

Informal Mixed Deciduous & Evergreen Trees & Shrubs
498 KB

Type J & M

Formal Mixed Deciduous Trees & Shrubs
581 KB

Type J & M

Informal Mixed Deciduous Trees & Shrubs
354 KB

Type J, O & Q

Mixed Deciduous Trees, Shrubs & Flowering Perennials
370 KB

Type K

Small Ornamental Deciduous Tree Massings
314 KB

Type L

Evergreen Tree Massings
361 KB

Type M

Large Deciduous Shrubs
410 KB

Type N

Large Evergreen Shrubs
363 KB

Type O

Short Deciduous Shrubs
408 KB

Type P

Short Evergreen Shrubs
430 KB

Type Q

Flowering Perennial & Groundcover Beds
575 KB

Type R

Planters
241 KB

Type S

Urban Streetscapes
497 KB