Live webcam for mini-roundabouts in St. James in place through March

MnDOT is temporarily recording and streaming live footage of the recently constructed mini-roundabouts in St. James with a traffic webcam. The webcam is live from January to March 2018, and will be used to monitor traffic flow and performance during winter weather conditions.

During Highway 4 construction in summer 2017, mini-roundabouts were constructed to replace traffic signals at the intersections of 1st Avenue S and Armstrong Boulevard N and 1st Avenue S and 7th Street S. A webcam has been placed near the intersection of 1st Avenue S and Armstrong Boulevard N and directed at the mini-roundabouts.

To view the live webcam of the mini-roundabouts, visit app.truelook.com/?u=ss1514233905.
Traffic impacts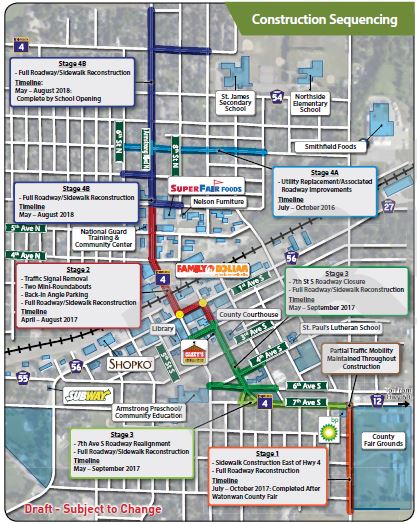 Detours
The 2017 work wrapped up and the Hwy 4 detour was removed on Friday, November 17.
The 2018 work will also require a detour consisting of Watonwan County Road 56 (1st Avenue), Watonwan County Road 55 and Highway 4.
While some concrete pedestrian and driveway work will remain to be done in 2018, at least one side along the length of the project will have a hard surfaced sidewalk in place for the winter.
The project detour for 2018 is currently expected to begin downtown and then follow the current detour route to the north. 2018 project work will mainly include the completion of concrete pedestrian ramp and sidewalk that didn't get completed this year along with street and utility reconstruction north of 8th Avenue North in St. James. Permanent lane markings will be placed in 2018 and boulevard trees will be planted also.