Traffic impacts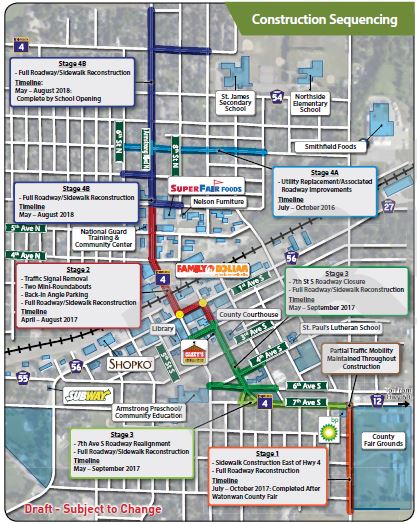 Detours
The 2017 work is wrapping up and the Hwy 4 detour removed on Friday, November 17.
The 2018 work will also require a detour consisting of Watonwan County Road 56 (1st Avenue), Watonwan County Road 55 and Highway 4.
While some concrete pedestrian and driveway work will remain to be done in 2018, at least one side along the length of the project will have a hard surfaced sidewalk in place for the winter.
The project detour for 2018 is currently expected to begin downtown and then follow the current detour route to the north. 2018 project work will mainly include the completion of concrete pedestrian ramp and sidewalk that didn't get completed this year along with street and utility reconstruction north of 8th Avenue North in St. James. Permanent lane markings will be placed in 2018 and boulevard trees will be planted also.