Purpose of Study
The City of Crookston is conducting a corridor study to evaluate the transportation and pedestrian needs of Highway 2 in Crookston. The primary goal is to create a future vision for the corridor that:
Improves safety for motorists and pedestrians
Manages access
Improves freight movement
Aligns with the City's development goals.
A key focus in accomplishing these goals is determining Highway 2 access management options for key intersections at Sixth Street and Robert Street. The final recommended solution will serve as a long-term implementation tool moving forward for both the City of Crookston and MnDOT.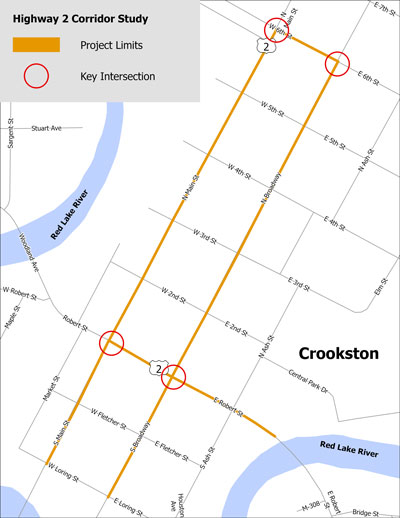 Open House
An Open House was held Nov. 15 for the corridor study, which is expected to last until next summer. The study will use a community review panel made up of community leaders and volunteers, to closely examine the current issues and create a local vision for the corridor.
Review materials from the Open House on the Public Involvement page.
How to Participate
Learn all the ways to take part in the study on the Public Involvement page. You can participate in an online survey, drop comments on the virtual Wikimap, submit a comment online or reach out to project staff.
Stay up to date by signing up for email updates.
Community Review Panel
Visit the Public Involvement page to learn how MnDOT is partnering with the City of Crookston to help identify the current issues and create a local vision for the corridor. A Community Review Panel will help City of Crookston ensure that community values are represented in the development and evaluation of project alternatives, while fostering conversations within the community.
Partnership
MnDOT and its partners have committed to work with the Crookston community to ensure that the community's concerns and aspirations are directly reflected in the alternatives developed as part of the Highway 2 Study and to provide feedback on how the community influenced recommendations and decisions.
Schedule