2022- Resurface and ADA improvements in Hallock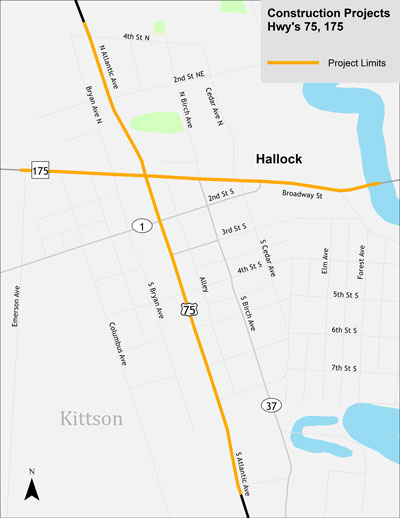 About this project
The pavement on Hwy 75 through the city of Hallock is in poor condition and due for replacement. This project also requires that the sidewalks be improved to meet federal Americans with Disabilities Act (ADA) standards. Project elements include:
Resurfacing with:

12 ft driving lanes in each direction
14 ft southbound shoulder
10 ft northbound shoulder

Bring all pedestrian accommodations up to ADA standards

Remove existing sidewalk and install new sidewalk

Widen sidewalks
Curb shift

Upgrade lighting standards and fixtures
Redesign
This is a complex project that requires a redesign of the roadway layout. Although different for Hallock, the new design will bring the road width more in line with similar communities
Visit the about tab view a more detailed look at the redesign
Partnership
MnDOT committed to work with the Hallock community and whenever feasible the community's aspirations, concerns and recommendations directly influenced the project design.
Visit the About page and FAQ page to view layouts of the new design and learn more about the details of this project.