2023 Construction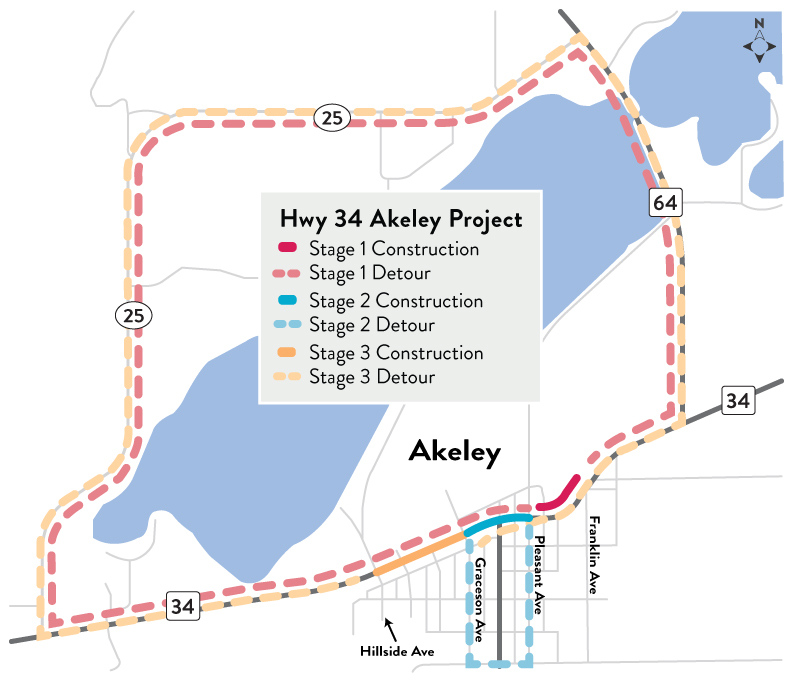 Hwy 34 in Akeley is currently under construction with detours this summer. The project began Monday, July 10 and will last through mid-October, weather permitting. When complete, the project will reconstruct the corridor and increase safety and mobility in town.

Public meetings are held at Akeley City Hall each Tuesday at 10:00 a.m. throughout the project.
What's happening now?
The project will begin Stage 2 on August 22.
What's happening next?
Stage 1: Pleasant Ave to Franklin Ave closed

The resurfacing portion east of Franklin Ave (out past Scherer Ave) will also take place during stage 1
estimated 4-5 weeks (complete)

Stage 2: Pleasant Ave to Graceson Ave closed

estimated 4-5 weeks (begins August 22)

Stage 3: Graceson Ave to Hillside Ave closed

estimated 4-5 weeks (begins mid-September)
Traffic Impacts
Beginning Tuesday, August 22, Hwy 34 will be closed between Pleasant Ave and Graceson Ave. Traffic will be detoured onto Pleasant Ave, Fourth Street and Graceson Ave.
Construction staging maps