MnDOT and Climate Change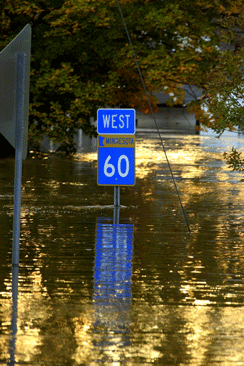 Climate Change poses many risks to Minnesota's transportation system, including flash floods from changing precipitation patterns. Significant floods in 2010 and 2012 caused widespread damage and highlighted the need for MnDOT to assess the changing vulnerability of the highway system to heavy precipitation.
Information on initiatives and organizations that are working to develop transportation-related policies and programs to reduce greenhouse gas emissions can be found on the Mitigation page.
MnDOT was selected to participate in a pilot project that evaluated the FHWA Climate Change & Extreme Weather Vulnerability Assessment Framework in two districts. Further information and project documents can be found on the Adaptation page.
Additional information and resources can be found on the Resources and Links page, including information on climatology, the historic floods of 2010 and 2012, and further climate related news reports.