Accessibility and ADA compliance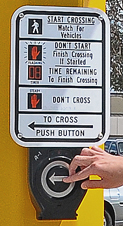 All MnDOT projects - both new construction and rehabilitation projects - must include evaluation to ensure compliance with the Americans with Disabilities Act. Components can include, but are not limited to adding curb cuts, truncated domes and accessible pedestrian signals. Read about MnDOT's transition plan to comply with the ADA.
The St. Croix Crossing project constructed four new controlled intersections with pedestrian crosswalks enhanced with:
Cut curbs with truncated domes
Audible crossing signals
All sidewalk and bike paths constructed in the project limits are 12 feet wide, in compliance with ADA guidelines.
The Loop Trail—connecting the new bridge, downtown Stillwater and Wisconsin—is designed for people of all abilities to enjoy.