Feasibility Study (completed in 2015)
Evaluation of a second daily intercity passenger rail service between the Twin Cities and Chicago
Background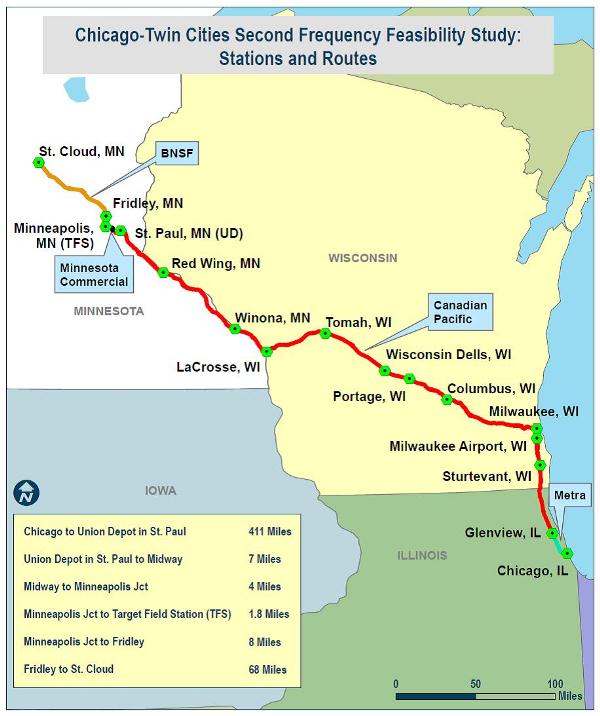 MnDOT, in partnership with WisDOT and La Crosse County, Wisconsin, requested Amtrak to complete a feasibility study of adding a second daily intercity passenger train between the Twin Cities (or St. Cloud, Minnesota) and Chicago, Illinois. The proposed service would generally follow the existing Empire Builder route through Illinois and Wisconsin, but could terminate in Minnesota at Union Depot in St. Paul, Target Field Station in Minneapolis, or at the Amtrak station in St. Cloud. A second daily train would offer more options to travelers in the corridor by providing better eastbound reliability and increased train frequency. Potential mobility benefits of the proposed service include:
Increased schedule options from the existing one daily round-trip to two daily round-trips between the Twin Cities, Chicago and intermediate stations
More reliable service with better on-time performance (particularly eastbound)
More convenient travel times for shorter, regional trips
More seating capacity on the corridor relieving pressure during peak periods
Improved connections between other trains, intercity buses, local public transit, and air service
Purpose
The project sponsors asked Amtrak to prepare a feasibility study that develops a high level, order-of-magnitude assessment of schedules, ridership, revenue, infrastructure investments, operating costs, and equipment needs (railcars and locomotives) associated with adding a second daily train between St. Cloud, the Twin Cities and Chicago. This assessment assisted the project sponsors in determining whether or not to move the project to the next steps toward implementation.
The feasibility study was completed in 2015. Recommendations included:
Completing a next phase of study on an initial start-up service between Chicago Union Station and Union Depot in Saint Paul, serving all existing stations plus the Milwaukee Airport Rail Station
Performing more detailed modeling, schedule development and refinement
Determining how the trains will be operationally integrated with the Hiawatha Service between Milwaukee and Chicago and with freight trains along the entire corridor
Determining cost sharing of the state's operating support and capital costs
Refining capital needs through coordination with the Federal Railroad Administration (FRA) and the host railroads
Exploring equipment options
The favorable ridership and revenue projections identified in the feasibility report supported a more detailed study of the proposed service. MnDOT and its partners are completing the detailed study of the service in two phases. This first phase will evaluate alternatives for track and other infrastructure improvements required for a second round trip, along with anticipated costs. Phase 2 of the project will complete environmental analysis and generate a service development plan.
Reports