New Library Materials
Items added during: March 2023
Contents:
---
Information Extra
Library Offers New Alert on Government Workforce Development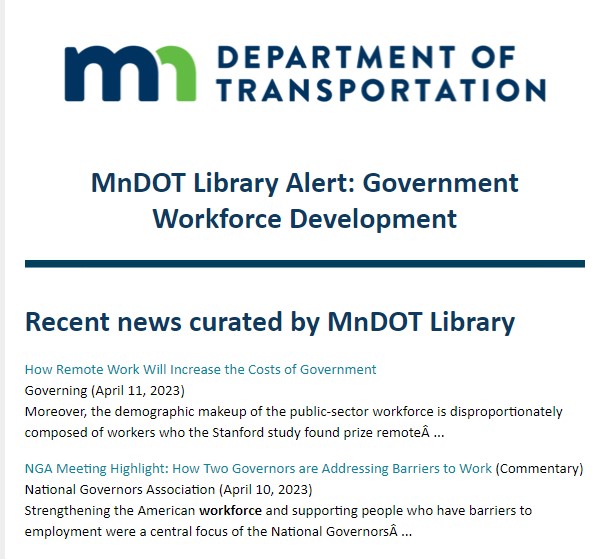 Workforce-related issues are in the daily headlines: how to attract, hire, and keep a sustained workforce is the number one issue facing many government agencies and the private sector as well. It's a reality that we are all competing for qualified individuals to add to our workforce.

MnDOT Librarians are now curating and offering a new alert service on Government Workforce Development.  We scan a variety of news sources related to workforce challenges, compile the most relevant, and deliver them biweekly to your email.

Please visit our website to sign up for this and other topical alerts.
---
Transportation Research Record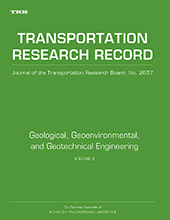 TRB's journal Transportation Research Record is now published in digital-only format. Full text is available to MnDOT employees. Check out new articles or sign up for an alert at Transportation Research Record.
---
How to Request Listed Resources
To request an item below, please fill out the Ask a Librarian form. Each listing links to a digital copy if available.
---
AIRPORTS
Airfield apron and ramp surface markings
TRB ACRP SYN 122
Airport insurance requirements
TRB ACRP 248
Developing an airport program to address human trafficking: a guide  
TRB ACRP 249
Managing a flight diversion with an emergency response at small, non-hub, or general aviation airports
TRB ACRP SYN 121
Urban air mobility: an airport perspective
TRB ACRP 243
AUTONOMOUS VEHICLES
Turning point: shared automated vehicles could make cities more livable, equitable
CHOICE OF TRANSPORTATION
COVID-19 implications on public transportation: understanding post-pandemic transportation needs, behaviors, and experiences
Parking FlexPass at ABC Ramps: integrating parking and transit options for sustainable mobility
ELDERLY DRIVERS

Promoting older driver safety : guide for state practices
TRB BTSCRP 4
ELECTRIC VEHICLES

Minnesota electric vehicle infrastructure plan
TL220.5 .M56x 2022
EQUITY
Addressing accessibility and equity along transitways: toward a mixed methods toolkit—
Part 1
Addressing Accessibility and Equity Along Transitways: Toward a Mixed Methods Toolkit—
Part 2:
HISTORY
The American Gas Station: History and folklore of the gas station in American car culture
TL153 .W58 1999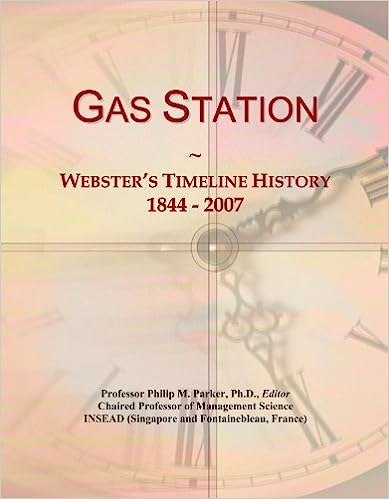 Gas station: Webster's timeline history 1844-2007
TL153 .P37 2008
Slavery's reach: Southern slaveholders in the North Star State
E445.M57 L44 2019
LOCAL TRANSIT

Funding shared mobility as an extension of existing public transit services
Access Across America: Transit 2018
Access Across America: Transit 2018 Methodology
Access Across America: Transit 2019
Access Across America: Transit 2019 Methodology
MAINTENANCE

Replacement of highway operations equipment: formulation of long-range plans and budgets
TRB NCHRP 1017
POETRY

Loose change: picking up the pieces - Donated by the Asian ERG Lunch & Learn guest speaker S.Z. Putnam
PN1016 .P88 2022
TRAFFIC FLOW

Modeling stochastic human-driver car following behavior in oscillatory traffic conditions
TRAFFIC SIGNS AND SIGNALS

Wind drag coefficients for highway signs and support structures
TRB NCHRP 1012
TRANSPORTATION MANAGEMENT

Developing a highway framework to conduct an all-hazards risk and resilience analysis
TRB NCHRP 1014
USER CHARGES
Minnesota user based fee demonstration
---
New title added to AASHTO Digital Publications
The following is available from AASHTO. Instructions on how to access it can be found here.
Guide Specifications for Design of Bonded FRP Systems for Repair and Strengthening of Concrete Bridge Elements, 2023, 2nd Edition (PDF)
---
How to Subscribe to the New Library Materials
Please fill out the Ask a Librarian form or enter your e-mail on this GovDelivery page.
---