New Library Materials
Items added during: January 2022
Contents:
---
Information Extra

Collection Close-up: Black Feminist Politics from Kennedy to Trump
Summary from Amazon:

From "black girl magic" to Black Lives Matter, the second decade of the 21st century is defined by black feminist politics. Black Feminist Politics from Kennedy to Trump is a definitive investigation of the mainstreaming of black feminist politics in the 21st century. Following on the success of Black Feminist Politics from Kennedy to Clinton and Black Feminist Politics from Kennedy to Obama, this volume incorporates the black women leaders of Black Lives Matter; contemporary black feminist political stars like Rep. Maxine Waters and Senator Kamala Harris; and the transformative influence of black feminist political strategy and principles in mainstream U.S. politics, especially in the 2016 U.S. election. The text also deepens earlier editions' consideration of sexuality and gender identity in black feminist politics and explores the role of digital organizing and social media in setting the terms of contemporary political struggles. A must-read for scholars in Political Science, American Studies, Africana Studies, History, and Gender/Feminist/Women's Studies, Black Feminist Politics from Kennedy to Trump also breaks down the complexity of contemporary politics for an everyday reader eager to understand how black women have been defining leadership and politics since the mid-century.

Note: This book was purchased to support the Equity and Diversity Virtual Book Club. Please contact us about any needs for your MnDOT book club.
To check out the ebook above, MnDOT employees can visit the cloudLibrary app or contact the library for assistance. Click here to see the other ebooks recently added to the collection.
While the library space is currently closed to the public, staff are working remotely and make occasional trips to the library on an as-needed basis. Please contact the library at Ask a Librarian.
---
Transportation Research Record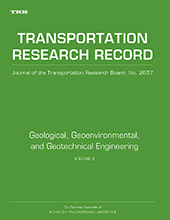 TRB's journal Transportation Research Record is now published in digital-only format. Full text is available to MnDOT employees. Check out new articles or sign up for an alert at Transportation Research Record.(See Stay Connected, click on Email Alerts).
---
How to See Listed Resources
To request an item below, please fill out the Ask a Librarian form. Each listing links to a digital copy if available.
---
AIRPORTS
ACRP 2021 annual report of progress
TRB ACRP 2021
BUSINESS COMMUNICATION
Use of social media by Minnesota cities and counties
JK468.A8 U83 2011
CONTRACTS
2020 - 2021 Report on the targeted group business and veteran-owned small business programs
HD3861.U62 T37 2021
COVID-19
2020-2021 Report on COVID-19 Federal Funds Expenditures
Powers exercised by Commissioner of Transportation during the peacetime public health emergency
CULVERTS
Assessing culverts in Minnesota : fish passage and storm vulnerability
TE213 .K69 2021
GEOTEXTILES
Effectiveness of geotextiles/geogrids in roadway construction; determine a granular equivalent (GE) factor
TE211 .A43 2021
HAZARDOUS MATERIALS
Preparing for LNG by rail tank car : a review of a U.S. DOT safety research, testing, and analysis initiative
TRB SR 339
LEADERSHIP
Great leaders make sure Monday morning doesn't suck : how to get, keep & grow talent
HD57.7 .H37 2021
LOCAL TRANSIT
2021 report on Minnesota Council on Transportation Access
HE309.M6 M555 2021

Trains, buses, people : An opinionated atlas of US and Canadian transit
HE308 .S675 2021
MINNESOTA STATE GOVERNMENT
PARKING
Parking generation manual
HE336.P37 P38 2019
RIGHT OF WAY
Cadastral and right of way data sharing
HE355.8 .C34 2010
RISK MANAGEMENT
Integrating effective transportation performance, risk, and asset management practices
TRB NCHRP 985
ROADS
Decision tree for unpaving roads
TE228.5 .D43 2010
SAFETY
Effects of 24-Hour headlight use on traffic safety
TL273 .E44 2010
TRAFFIC FLOW
Trip generation manual
HE370.O75 B79 2021
TRANSPORTATION RESEARCH
FY2021 Research at-a-glance
HE192.55.M6 M565 2021
TRANSPORTATION RESEARCH BOARD
FY 2021 Local Road Research Board at-a-glance
HE192.55.M6 L77 2021
URBAN TRANSPORTATION
Small MPO funding
HE308 .B43 2011
USER CHARGES
Potential benefits to the freight industry of distance-based road user fees
HE196.9 .P68 2010
---
New ebooks in the cloudLibrary platform
The Library's ebook collection requires a MnDOT Library ID to checkout and read books. Contact the library using the Ask a Librarian form to request a MnDOT Library ID or if you have forgotten yours. (MnDOT employees and city/county employees.)
RACISM
The sum of us: what racism costs everyone and how we can prosper together
ebook
e-audio
---
How to See Listed Resources
To request a print item above, please fill out the Ask a Librarian form.
How to Subscribe to the New Library Materials
Please fill out the Ask a Librarian form or enter your e-mail on this GovDelivery page.
---