New Library Materials
Items added during: October 2021
Contents:
---
Information Extra

Collection Close-up: The leader's guide to unconscious bias : how to reframe bias, cultivate connection, and create high-performing teams

Summary from cloudLibrary:

Unconscious bias affects everyone. It can look like the disappointment of an HR professional when a candidate for a new position asks about maternity leave. It can look like preferring the application of an Ivy League graduate over one from a state school. It can look like assuming a man is more entitled to speak in a meeting than his female junior colleague. Ideal for every manager who wants to understand and move past their own preconceived ideas, The Leader's Guide to Unconscious Bias explains that bias is the result of mental shortcuts, our likes and dislikes, and is a natural part of the human condition. And what we assume about each other and how we interact with one another has vast effects on our organizational success—especially in the workplace. Teaching you how to overcome unconscious bias, this book provides more than thirty unique tools, such as a prep worksheet and a list of ways to reframe your unconscious thoughts.
To check out the ebook above, MnDOT employees can visit the cloudLibrary app or contact the library for assistance. Click here to see the other ebooks recently added to the collection.
While the library space is currently closed to the public, staff are working remotely and make occasional trips to the library on an as-needed basis. Please contact the library at Ask a Librarian.
---
Transportation Research Record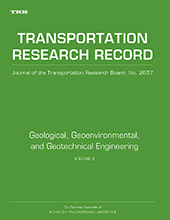 TRB's journal Transportation Research Record is now published in digital-only format. Full text is available to MnDOT employees. Check out new articles or sign up for an alert at Transportation Research Record.(See Stay Connected, click on Email Alerts).
---
How to See Listed Resources
To request an item below, please fill out the Ask a Librarian form. Each listing links to a digital copy if available.
---
AIRPORTS
Airport biometrics: a primer
TRB ACRP 233
Legal considerations for telecommunications at airports
TRB ACRP LRD 43
AIR QUALITY
Practices for project-level analyses for air quality
TRB NCHRP SYN 576
CONCRETE
ACI collection of concrete codes, specifications, and practices
TA439 .A25x 2021
ACI detailing manual : MNL-66(20)
TA683.28 .A45 2020
CULVERTS
Mitigating seasonal movement at culvert and utilities
TE213 .M37 2021
HUMAN RESOURCES
Recruitment and retention of highway maintenance workers
TE220.5 .F39 2021
INFORMATION RESOURCES MANAGEMENT
Data literacy : achieving higher productivity for citizens, knowledge workers, and organizations
QA76.9.D343 A44 2021
LIGHTING
Re-tightening the large anchor bolts of support structures for signs and luminaires : phase II
TE228 .P53 2021
MAINTENANCE
Collaborative practices for performance-based asset management between state DOTS and MPOs
TRB NCHRP SYN 577
PAVEMENTS
Full depth reclamation resource guide for urban and suburban street application
TE275 .M56 2021
Maintenance and surface preparation activities prior to pavement preservation treatments
TRB NCHRP SYN 565
PEOPLE WITH DISABILITIES
Technical feasibility of a wheelchair securement concept for airline travel : a preliminary assessment
TRB SR 341
ROAD CONSTRUCTION
Catch basins and manholes : products, installation and settlement and heave mitigation
TD665 .W36 2021
SNOW AND ICE CONTROL
Harnessing solar energy snow fencing through noise barriers and structural snow fences
TJ810 .Y36 2021
TRAFFIC SAFETY
Traffic safety evaluation at reduced conflict intersections in Minnesota
TE176 .M67 2021
WORK ZONES
COVID-19 impacts on speed and safety for Minnesota roads and work zones
HE5620.S6 H38 2021
Temporary pavement markings placement and removal practices in work zones
TRB NCHRP SYN 574
---
New ebooks in the cloudLibrary platform
The Library's ebook collection requires a MnDOT Library ID to checkout and read books. Contact the library using the Ask a Librarian form to request a MnDOT Library ID or if you have forgotten yours. (MnDOT employees and city/county employees.)
BUSINESS AND ECONOMICS
The burnout epidemic : the rise of chronic stress and how we can fix
ebook
e-audio
HBR Guide to Remote Work
ebook
DIVERSITY AND INCLUSION
The leader's guide to unconscious bias : how to reframe bias, cultivate connection, and create high-performing teams
ebook
e-audio

---
How to See Listed Resources
To request a print item above, please fill out the Ask a Librarian form.
How to Subscribe to the New Library Materials
Please fill out the Ask a Librarian form or enter your e-mail on this GovDelivery page.
---