New Library Materials
Items added during: September 2021
Contents:
---
Information Extra

Collection Close-up: Measure What Matters by John Doerr and Larry Page

Summary from cloudLibrary:
Legendary venture capitalist John Doerr reveals how the goal-setting system of Objectives and Key Results (OKRs) has helped tech giants from Intel to Google achieve explosive growth—and how it can help any organization thrive.
Objectives and Key Results. He had first discovered OKRs in the 1970s as an engineer at Intel, where the legendary Andy Grove (\"the greatest manager of his or any era\") drove the best-run company Doerr had ever seen. Later, as a venture capitalist, Doerr shared Grove's brainchild with more than fifty companies. Wherever the process was faithfully practiced, it worked.In this goal-setting system, objectives define what we seek to achieve; key results are how those top-priority goals will be attained with specific, measurable actions within a set time frame.
Everyone's goals, from entry level to CEO, are transparent to the entire organization. The benefits are profound. OKRs surface an organization's most important work. They focus effort and foster coordination. They keep employees on track. They link objectives across silos to unify and strengthen the entire company.
To read the ebook above, MnDOT and city/county employees can check out this ebook in the cloudLibrary app or contact the library for assistance.
While the library space is currently closed to the public, staff are working remotely and make occasional trips to the library on an as-needed basis. Please contact the library at Ask a Librarian.
---
Transportation Research Record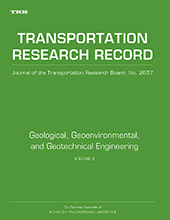 TRB's journal Transportation Research Record is now published in digital-only format. Full text is available to MnDOT employees. Check out new articles or sign up for an alert at Transportation Research Record.(See Stay Connected, click on Email Alerts).
---
How to See Listed Resources
To request an item below, please fill out the Ask a Librarian form. Each listing links to a digital copy if available.
---
AIRPORTS
Guidebook for developing a zero- or low-emissions roadmap at airports
TRB ACRP 220
Rapid slab repair and replacement of airfield concrete pavement
TRB ACRP 234
BICYCLE TRAILS
Guidance for separated/buffered bike lanes with delineators
MNDOT TE301 .H68 2021
BRIDGES
Use of innovative technology to deter bat bridge use prior to and during construction
MNDOT TG315 .B46 2021
DRONES
Unmanned aircraft systems (UAS) - Metro District bridge inspection implementation
MNDOT TG315 .W46 2021
ENVIRONMENT
Continued monitoring of stormwater effluents from filter media in two bioslope sites
MNDOT TD657.5 .C35 2021
FLOOD FORECASTING
Practices for integrated flood prediction and response systems
TRB NCHRP SYN 573
HUMAN RESOURCES
Workforce planning and human resource development strategies for Minnesota's public transportation agencies
MNDOT TA157 .B37 2021
INTELLIGENT TRANSPORTATION SYSTEMS
Development and demonstration of an in-vehicle lane departure warning system using standard GPS technology
MNDOT TE228.3 .C56 2021
Generating traffic information from connected vehicle V2V basic safety messages
MNDOT TL152.8 .C54 2021
MAINTENANCE
A qualitative and quantitative assessment of pavement sections that have remained in poor condition for five-plus years
MNDOT TE220.3 .C36 2021
Pavement thickness evaluation using 3D ground penetrating radar
MNDOT TE250 .K53 2021
Transportation system resilience: research roadmap and white papers
TRB NCHRP 975
NON-DESTRUCTIVE TESTING
Modulus and dynamic cone penetrometer data collection for full-depth reclamation projects
MNDOT TE270 .T65 2021
ROAD CONSTRUCTION
Use of material delivery management system (MDMS) for asphalt paving applications
MNDOT TE275 .E42 2021
ROAD MAINTENANCE MANAGEMENT
Use of relative surface technology for creation of relative milling surface models and during the automated machine guidance milling operation
MNDOT TE250 .E42 2021
ROAD MATERIALS
Innovative materials and advanced technologies for a sustainable pavement infrastructure
TE275 .L4 2021
SNOW AND ICE CONTROL
Adaptive management to improve de-icing operations
MNDOT TE220.5 .B35 2021
TRANSIT
Impact of transitways on travel on parallel and adjacent roads and park-and-ride facilities
MNDOT HE4491.T95 T73 2021 no.20
WATER QUALITY MANAGEMENT
Design and construction of infiltration facilities
MNDOT TD657.5 .T43 2021
WRITING
Typography for lawyers : essential tools for polished & persuasive documents
MNDOT KF250 .B88 2015
---
New titles added to AASHTO Digital Publications
Available to MnDOT employees via iHUB > Library (MnDOT employee use only)
Standard specifications for transportation materials and methods of sampling and testing and AASHTO provisional standards
MNDOT TE200 .A43 2021
Also available online through ASTM DOT Compass Portal http://compass.astm.org, for MnDOT employees through IP recognition.
---
How to See Listed Resources
To request a print item above, please fill out the Ask a Librarian form.
How to Subscribe to the New Library Materials
Please fill out the Ask a Librarian form or enter your e-mail on this GovDelivery page.
---