Radiusmeter
A new tool for accurately measuring the radius of a curve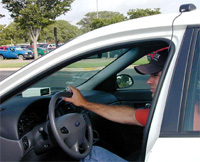 Radiusmeter mounted on a car Photo courtesy of Texas Transportation Institute
Read more about the Radiusmeter HERE
Links to research websites


Search Databases
Other Research Services Products and Publications
Traffic Safety Navigation
Traffic Engineering Sites
What does safety research do?
Research supports measurable improvements in Minnesota's transportation system by meeting the innovation and information needs of transportation practitioners and the transportation community?
---
Rumble Strips

The Effect of Rumble Strips on Drivers Approaching Rural, Stop-Controlled Intersections
Researchers studied the stopping patterns of approximately 400 cars, trucks and other vehicles at selected rural intersections and found that in-lane rumble strips caused drivers to reduce speeds earlier and to a greater degree than at intersections without rumble strips. This was the third in a comprehensive series of studies on the effectiveness of in-lane rumble strips.
Technical Summary: 200644TS (PDF) | Full Report: 2006-44 (very large 21.71 MB file) (PDF)
"This study provides counties with some justification for implementing in-lane rumble strips as well as useful information for formulating rumble strip policies."
- Brad Wentz, Becker County Engineer
---
HEAT - Highway enforcement of Aggressive Traffic
In July of 2009, the Mn/DOT Office of Traffic Safety and Technology, Department of Public Safety Offices of Traffic Safety along with the Minnesota State Highway Patrol partnered to develop an aggressive driving education and enforcement campaign – High Enforcement of Aggressive Traffic. The HEAT program will run for three years and it aims to improve roadway safety through education and heightened traffic enforcement.
You can read more here: HEAT