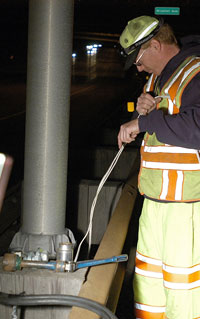 Lighting Contact
Lighting Site Navigation
Lighting Plan Sheets
Traffic Engineering Sites
MnDOT Projects

For more technical information on Traffic lighting design or operation on MnDOT projects
Contact Sue Zarling
email susan.zarling@state.mn.us


call 651-234-7052
Other Questions
Traffic Engineering staff will answer any questions regarding statewide policy, standards, and their implementation.

Who Do I Contact?
How do I get a roadway light installed or fixed?
The contact depends on the type of road. You need to know which government agency owns and operates the roadway light or has jurisdiction of the roadways.
For lighting requests on:
State highway system contact the district traffic engineer at your State Traffic Engineers.
State highways system includes:

Interstate Highways


U.S. Highways


Minnesota State Highways
Local streets and highways contact your local road authority (county, city or township). County Engineers or City Engineers