AADT for Smaller Municipalities:
The PDF maps for smaller cities (population less than 5,000) are no longer available. To view these AADT values please open the Traffic Mapping Application viewer using the link below. Once in the viewer, go to the bottom of the page and search for the city of interest in the "Jump to Extent" drop-down menu (cities are listed after counties). When the city is chosen, click the arrow. Wait for the map to automatically zoom in and redraw, then go the Layer List on the left side of the screen to turn on the desired map layers (check the empty box next to the layer name). AADT values will display with the layer 'Official AADT'. See the bottom of this page for info regarding Browser Requirements and Pop-up Blocking.
Launch Traffic Mapping Application
MnDOT's Traffic Mapping Application is an interactive web tool that allows users to explore spatial traffic data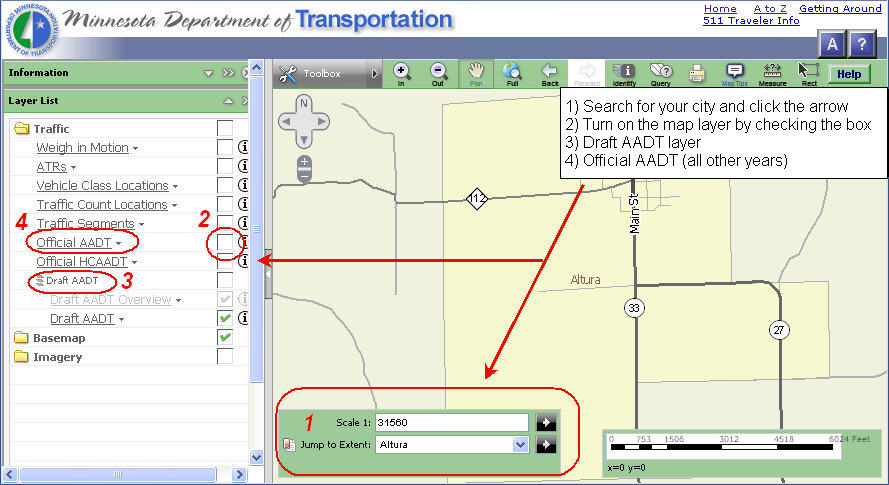 Instructions:
The interactive map allows you to select where you would like to view data at a larger scale. Many layers are scale dependent and will not appear until the map is zoomed in far enough. Once in the Traffic Mapping Application viewer, position your mouse over the tools to learn about their function.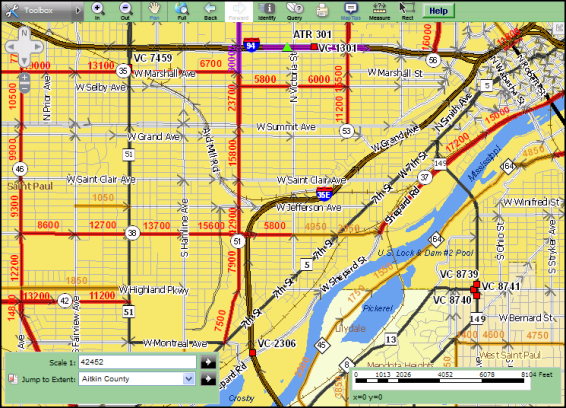 Available Layers Include:
Weigh-In-Motion (WIM) Collection Sites
Automatic Traffic Recorder (ATR) Collection Sites
Vehicle Class Collection Sites
Traffic Count Collection Sites
Traffic Segments
Official AADT
Official HCAADT
Draft AADT
Roads
Railroads
State Boundary
County Boundaries
Municipal Boundaries
Streams
Lakes
Web Browser Requirements: 
Internet Explorer 6.x and higher is recommended for best results when using this website but Firefox, Safari and Netscape will work.
* Instructions to allow the application to run using Windows 8 and Internet Explorer 10: Run the browser in Compatibility View and add state.mn.us in Compatibility View Settings
On the Command Bar at the top of the screen, go to Tools... Compatibility View Settings and add state.mn.us. Click add and close.
Go to Tools again... check Compatibility View
Viewing the Site: 
This site is best viewed at a screen resolution of 1024 x 768 or higher with colors set to thousands or higher.
Printing:
Pop-up blocking will need to be disabled or this site needs to allow pop-ups in order for you to print any maps.  See the next information section below.
Pop-up Blocking:
Pop-up blocking needs to be disabled in order for you to use all features available on this website.  You can also add this site to your list of sites where pop-ups are allowed. 
In Internet Explorer, go to tools... Pop-up Blocker Settings and add gisservices.dot.state.mn.us.  Click add and close. 
In Firefox go to tools... options... Web Features and add gisservices.dot.state.mn.us as an allowed site.
Use of this document is subject to MnDOT's disclaimers, legal notices, and policies found at:
http://www.dot.state.mn.us/information/disclaimer.html