Accessibility and ADA compliance on the St. Croix Crossing project
While the St. Croix Crossing is a major construction project requiring unique designs, plans and execution, the ADA compliance aspect of the project is straightforward.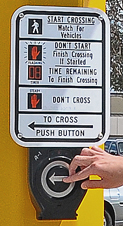 The St. Croix Crossing project is constructing four new controlled intersections with pedestrian crosswalks enhanced with:
Cut curbs with truncated domes
Audible crossing signals
All sidewalk and bike paths constructed in the project limits will be 12 feet wide, in compliance with ADA guidelines.
The Loop Trail—connecting the new bridge, downtown Stillwater and Wisconsin—is designed for people of all abilities to enjoy.
In order for a project to be considered finished and open to vehicle traffic and pedestrians, all ADA accommodations must be complete and approved. All MnDOT projects – both new construction and existing projects – must be evaluated to ensure compliance with the Americans with Disabilities Act.
MnDOT as a public agency must ensure that all of its programs, services and activities are accessible to and usable by individuals with disabilities. Since 2010, MnDOT has been implementing a transition plan to further accomplish the goals of the agency's mission, vision and core values. This transition plan includes updating existing projects and ensuring future projects are ADA compliant. An investment of over 12 million dollars has been made since the launch of the plan, with another 5 million planned for investment.
MnDOT believes that our services should benefit all Minnesotans, which is why solving accessibility problems is no problem at all.
Read further MnDOT's transition plan to comply with the ADA