Minnesota Safe Routes to School Bicycle Fleet Solicitation
Solicitation not currently open.
2018 grant overview
Access to bicycles is a key component to helping teachers and after school programs better educate students on safe bicycling skills. Through bicycle fleet awards, MnDOT supports teachers using the Walk! Bike! Fun! curriculum across Minnesota in training students in safe walking and bicycling behavior. Successful applicants are reimbursed for the purchase of a bicycle fleet. Fleets can include approximately 40 bicycles (targeted towards children in grades 4-6, up to grade 8), helmets, basic supplies and an enclosed trailer to store and move them.
The application for the 2018 Bike Fleet solicitation is now closed.
Funding availability
Up to $125,000 will be made available for solicitations, with an estimated total cost of an entire fleet at $32,000, MnDOT will be able to provide as many as four fleets to selected communities in Minnesota. Funding is allocated through a competitive process with review by a committee representing content and community specialists with regional knowledge. We expect to announce selected grantees by September 2018.
Eligibility
Entities eligible to apply include:
Schools, both public and private school districts
Federally Recognized Tribes
Cities
Counties
Regional Development Commissions or Metropolitan planning agencies
Non-profit organizations
Resolution
A resolution of support is required of successful grant applicants. See example in the application materials section.
Application materials
The guide to completing the application, the application itself, an example resolution and scoring criteria can be found below.
Additional information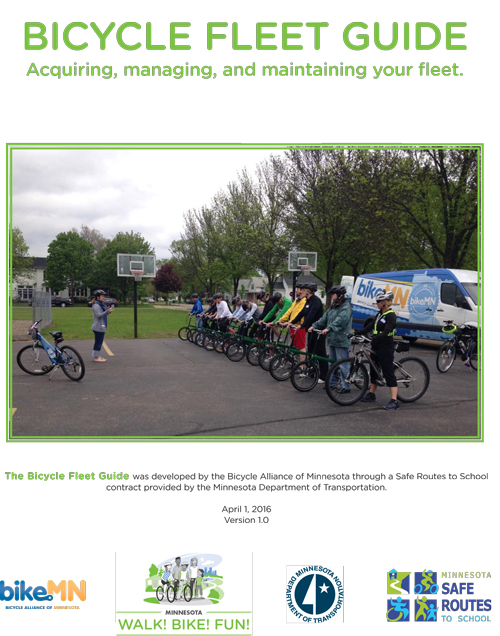 Information about the Walk! Bike! Fun! bicycle and pedestrian safety curriculum can be found on the Bicycle Alliance of Minnesota website.
If you have questions on this solicitation, please contact the Safe Routes to School Coordinator.
To learn more about acquiring, managing and maintaining a fleet of bicycles, download the Bicycle Fleet Guide from the Bicycle Alliance of Minnesota's website.