Native and invasive roadside vegetation
View or print full list of Minnesota's noxious weeds (PDF 6.5 MB)
Common roadside plants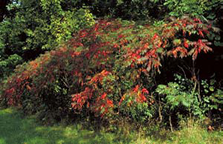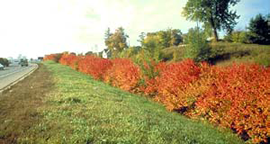 Plants that cause dermatitis
Poison Ivy - primary noxious weed
Primary noxious weeds are required to be controlled by State Law.
Leaves: 3 dull or shiny leaflets, 2-4" long, can be smooth-margined, lobed or irregular toothed, leaves may vary on same plant, bright green, turning orange or red in fall.
Flowers: Not easily seen, found in leaf axils.
Range: Native to MN found statewide.
Comments: DO NOT TOUCH! May cause severe rash in susceptible people. Plant oils can get onto clothing or footwear and cause rash at later date.



Grecian Foxglove - secondary noxious weed
Secondary noxious weeds are required to be controlled in counties which lists Grecian Foxglove on county lists.
Leaves: First year basal rosette. Lance-shaped, smooth or slightly hairy. Stem leaves are alternate, narrow, oblong, sessile.
Flowers: Flowers develop 2nd year. In raceme at top of stalk. Individual flowers are snap-dragon shaped. Creamy white lip with purple or brown veined hood. Flowering plant can reach 5-6 feet in height.
Range: Pockets along Eastern border from Stillwater to Afton.
Comments: Produces digoxin that can be absorbed through the skin. Digoxin may cause potentially fatal heart problems. Ingestion can be fatal to cattle or horses.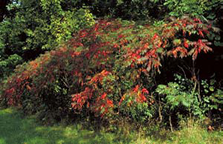 Wild parsnip
Not currently listed for control requirements.
Leaves: Pinnately compound, variously toothed.
Flowers: 2-6" flat topped clusters, flowers from June- September, plant turns brown when finished flowering.
Range: Very common in SE MN and spreading throughout the state.
Comments: Avoid this plant. Plant contains "sap" that reacts with ultraviolet rays and causes severe blistering of the skin (photodermatitis).
Wild parsnip fact sheet - controlling wild parsnip on state highways (PDF)


Commonly mistaken plants
Many native plants are commonly mistaken for thistle, purple loosestrife, and leafy spurge along MnDOT right-of-way. Don't spray purple - know what you are controlling.
Noxious weeds - required to be controlled by state law



Commonly mistaken plants - not required to be controlled by state law