Public meetings and opportunities to comment on projects and plans
Throughout the year we hold open houses, workshops and online opportunities to engage with us and learn more about our projects. Even if the formal comment period for some projects may be over, we always welcome your questions and are here to listen.
And don't forget, you can always contact us with your questions and concerns.
Search by MnDOT District
Click on a region of the map below to get involved in your district, or first find your district by city.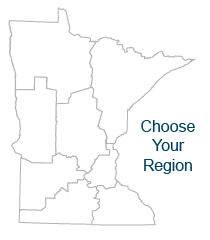 Northern Lights Express
The Northern Lights Express is a proposed intercity passenger rail project to provide high-speed rail service between Minneapolis and Duluth. The project would operate on approximately 152 miles of existing BNSF railway track. Learn about estimated project costs, benefits, ridership and service plans.
Resources: News release and meeting information, NLX project site
Statewide transportation plans
MnDOT's Statewide Multimodal Transportation Plan, 20-Year Minnesota State Highway Investment Plan and Greater Minnesota Transit investment plan have been released for public review. These three key transportation plans will shape the future of transportation in the state and direct billions of dollars of investment during the next 20 years. Comments can be left on the MinnesotaGO website.
Resources: News release and meeting information, MinnesotaGo
Hwy 24
Clearwater to Clear Lake
What: Project open house about the future Highway 24 resurfacing and pedestrian access improvement project between I-94 in Clearwater and Hwy 10 in Clear Lake in 2018. Includes sidewalk upgrades in Clear Lake. Project staff will be available to answer questions and a preliminary layout will on display.
When: Tuesday, Jan. 24, 2017, from 5-7 p.m. 
Where: Clear Lake City Hall at 7684 1st Ave West, Clear Lake. Map to City Hall.
Contact: Luke Wehseler, project manager, 218-828-5721
Resources: Hwy 24 construction
Hwy 23
Paynesville to Richmond
The public is invited to view changes made to the layout as a result of the comments made at the May 12 open house.
What: Open house to show changes to layout and gather more feedback.
When: Thursday, Jan. 12, from 4 to 6 p.m.
Where: St. Peter and Paul Gymnasium, 110 Central Ave. North, Richmond
Contact: Mandi Lighthizer-Schmidt, mandi.lighthizer-schmidt@state.mn.us
Resources: Hwy 23 gap webpage
U.S. Hwy 59 study
Worthington
Give input on the U.S. Hwy 59 study. Study is in preparation of a future urban reconstruction project on U.S. Hwy 59.
What: Survey to asses the community's interest, use and critical needs. Anyone with an interest in the future of U.S. Hwy 59 in Worthington should take the 8-question survey.
Contact: Rebecca Arndt, rebecca.arndt@state.mn.us
Resources: News release, U.S. Hwy 59 survey page