Public meetings and opportunities to comment on projects and plans
Throughout the year we hold open houses, workshops and online opportunities to engage with us and learn more about our projects. Even if the formal comment period for some projects may be over, we always welcome your questions and are here to listen.
And don't forget, you can always contact us with your questions and concerns.
Search by MnDOT District
Click on a region of the map below to get involved in your district, or first find your district by city.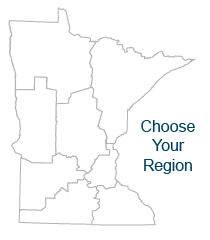 Northern Lights Express
The Northern Lights Express is a proposed intercity passenger rail project to provide high-speed rail service between Minneapolis and Duluth. The project would operate on approximately 152 miles of existing BNSF railway track. Learn about estimated project costs, benefits, ridership and service plans.
Resources: NLX project site
Statewide transportation plans
MnDOT's Statewide Multimodal Transportation Plan, 20-Year Minnesota State Highway Investment Plan and Greater Minnesota Transit investment plan have been released for public review. These three key transportation plans will shape the future of transportation in the state and direct billions of dollars of investment during the next 20 years. Comments can be left on the MinnesotaGO website.
Resources: MinnesotaGo
Learn more about transportation at the St. Louis County Fair
Description: Visitors to the St. Louis County Fair in Chisholm Aug. 9-13 are invited to stop by the Commercial Exhibits and Department of Natural Resources building to talk with Minnesota Department of Transportation staff about current and future projects, road safety, employment and more.
When: August 9-13
Where: St. Louis County Fairground, located next to Iron World on Hwy 169 in Chisholm.
More information: News release
Hwy 2 access management projects
Between Bemidji and Wilton
Description: Attend an open house to discuss upcoming access management projects.
When: Wednesday, Aug. 23, from 3 to 6 p.m.
Where: MnDOT District 2 headquarters building, 3920 Highway 2 West, Bemidji
Contact: TJ Melcher, tj.melcher@state.mn.us
More information: Hwy 2 news release
Hwy 12 Corn Carnival booth
Cokato
Description: Visit the MnDOT booth at the Corn Carnival to learn about the potential Hwy 12 redesign through Cokato. All comments received will be used to inform future decisions on the project's final design.
When: Tuesday, Aug. 8, from 5 to 7 p.m.
Where: Cokato Corn Carnival, southeast corner of Peterson Park near the baseball diamond backstop, near the intersection of Sixth Street and Broadway Avenue.
Contact: J.P. Gillach, james.gillach@state.mn.us
More information: Hwy 12 news release
Mesaba Avenue improvement project open house
Duluth
Description: Project presentation beginning at 6 p.m., and project staff will be on hand to answer questions.
When: Aug. 15, 2017 beginning at 5:30 p.m
Where: Harrison Community Club, 3002 West Third Street, Duluth, MN 55806
Contact: Janet Miller, janet.rae.miller@state.mn.us
More information: Project website
Hwy 22/County Rd 90 roundabout
Mankato
Description: Construction open house. Staff will be present to share information and discuss construction impacts, detour and local access during the 2018 project.
When: Aug. 3, 2017, 5:30 to 7 p.m.
Where: Terrace View Golf Course south of Mankato on Hwy 22
Contact: Rebecca Arndt, rebecca.arndt@state.mn.us
More information: Hwy 22 website
I-35W/Lake Street reconstruction project open house
Minneapolis
What: The public is invited to learn about the four and a half year reconstruction of I-35W between 43rd Street and downtown Minneapolis at an upcoming open house.
When: Thursday, Aug. 17 from 5 p.m. to 7 p.m.
Where: Children's Village Center building at Hope Community, Inc., 611 East Franklin Avenue, Minneapolis
Resources: News release
Hwy 48 Hinckley
Hinckley
What: The public is invited to attend an open house to ask questions and learn more about the resurfacing and improvement project that begins Sept. 11, 2017.
When: Wednesday, Aug. 16 from 4 to 6 p.m.
Where: City of Hinckley Community Room, 106 1st Street SE in Hinckley
Contact: Stephanie Smith-Christensen, stephanie.smith-christensen@state.mn.us
Resources: Hwy 48 news release, Hwy 48 project website
Hwy 60 designs
Mankato
What: The public is encouraged to attend an open house on the designs to improve Highway 60 east of Mankato, particularly in the city of Madison Lake.
When: Monday, Aug. 7 from 5 to 7 p.m.
Where: Madison Lake City Hall, 525 Main Street
Contact: Rebecca Arndt, rebecca.arndt@state.mn.us
Resources: Hwy 60 news release, Hwy 60 Madison Lake website
Main Street project
Biwabik
What: The public is invited to attend a public meeting to view preliminary project plans and learn about the future vision of Main Street in Biwabik.
When: Tuesday, August 22, from 5:30 to 7:30 p.m., with a formal presentation beginning at 6 p.m.
Where: Biwabik Park Pavilion, 100 5th Ave. S, Biwabik, MN 55708.
Contact: Beth Petrowske, beth.petrowske@state.mn.us
Resources: News release