Public meetings and opportunities to comment on projects and plans
Throughout the year we hold open houses, workshops and online opportunities to engage with us and learn more about our projects. Even if the formal comment period for some projects may be over, we always welcome your questions and are here to listen.
And don't forget, you can always contact us with your questions and concerns.
Search by MnDOT District
Click on a region of the map below to get involved in your district, or first find your district by city.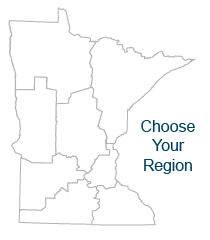 Northern Lights Express
The Northern Lights Express is a proposed intercity passenger rail project to provide high-speed rail service between Minneapolis and Duluth. The project would operate on approximately 152 miles of existing BNSF railway track. Learn about estimated project costs, benefits, ridership and service plans.
Resources: News release and meeting information, NLX project site
Statewide transportation plans
MnDOT's Statewide Multimodal Transportation Plan, 20-Year Minnesota State Highway Investment Plan and Greater Minnesota Transit investment plan have been released for public review. These three key transportation plans will shape the future of transportation in the state and direct billions of dollars of investment during the next 20 years. Comments can be left on the MinnesotaGO website.
Resources: News release and meeting information, MinnesotaGo
Hwy 10—Elk River
Description: Open house for the two-year Hwy 10 Lake Orono bridge replacement project in Elk River set to begin July 6, 2017. View plan layouts, learn about 2017-2018 traffic impacts and meet project staff.
When: Wednesday, June 28, from 4 to 7 p.m.
Where: Elk River City Hall, 13065 Orono Parkway NW
Contact:Tim Paul, timothy.g.paul@state.mn.us, construction project manager, 320-223-6546
More information: www.mndot.gov/d3/h10orono/
Hwy 23
Foley to Milaca
What: Open house about the Highway 23 safety audit between Foley and Milaca. Meet with traffic safety professionals involved with the audit, view displays and provide concerns and input. Towards Zero Deaths stakeholders initiative.
When:Thursday, June 15, from 6 p.m. to 8 p.m. A short presentation at 6:15 p.m.
Where:Foley Intermediate School Media Center (Door 1), 840 Norman Avenue N, Foley
Contact: Tom Nixon thomas.nixon@state.mn.us
Resources: News release
Hwy 27
Little Falls
What: Open house to discuss 2019 road improvements on Highway 27 (Broadway Ave) in Little Falls. Learn more about the project, view design plans and meet with project staff. We value your input and hope you can attend.
When:Thursday, June 29, from 6 to 7:30 p.m.
Where:Little Falls City Hall, 100 NE 7th Ave, Little Falls
Contact: Luke Wehseler luke.wehseler@state.mn.us, project manager, 218-828-5721
Hwy 371
Pequot Lakes
What:Open house informational booth. Please join us, alongside other vendors at the Pequot Lakes Market in the Park in downtown Pequot Lakes Trailside Park. Project staff will be on hand to answer questions. If rainy, may reschedule.
When:Thursday, June 15, from 10 a.m. to 4 p.m.
Where:Downtown Pequot Lakes Trailside Park along Patriot Ave and County Road 11/Main Street
Contact: JP Gillach james.gillach@state.mn.us, communications, 218-828-5706