Public meetings and opportunities to comment on projects and plans
Throughout the year we hold open houses, workshops and online opportunities to engage with us and learn more about our projects. Even if the formal comment period for some projects may be over, we always welcome your questions and are here to listen.
And don't forget, you can always contact us with your questions and concerns.
Search by MnDOT District
Click on a region of the map below to get involved in your district, or first find your district by city.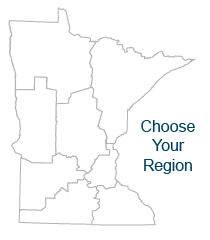 Mowing and haying in state right of way listening sessions
Share your feedback on mowing and haying in state right of way at an upcoming informational listening session. Informational listening sessions will be held across the state in October and November 2017 to provide an opportunity for people to be heard. Can't make it to a listening session? You can also submit comments online anytime.
Resources: Mowing and haying site
Northern Lights Express
The Northern Lights Express is a proposed intercity passenger rail project to provide high-speed rail service between Minneapolis and Duluth. The project would operate on approximately 152 miles of existing BNSF railway track. Learn about estimated project costs, benefits, ridership and service plans.
Resources: NLX project website
Statewide transportation plans
MnDOT's Statewide Multimodal Transportation Plan, 20-Year Minnesota State Highway Investment Plan and Greater Minnesota Transit investment plan have been released for public review. These three key transportation plans will shape the future of transportation in the state and direct billions of dollars of investment during the next 20 years. Comments can be left on the MinnesotaGO website.
Resources: MinnesotaGo website
Twin Ports interchange open house

Duluth
What: The public is invited to attend an open house that will provide the public an opportunity to ask questions and learn more about the proposed project to rebuild and modernize the current infrastructure.
When: Monday, Nov. 13, from 5 p.m. to 7 p.m.
Where: Duluth Art Institute, 2229 W. 2nd Street, Duluth, MN, 55806
Contact: Beth Petrowske, Public Affairs, 218-725-2708
More information: News release
Hwy 12 project open house
Cokato
What: The public is invited to attend a project open house to learn about future Hwy 12 road and safety improvement plans through Cokato. The project team will be available to answer questions and hear concerns. Your feedback is important to us. We hope you can attend.
When: Thursday, Nov. 9, from 5 p.m.to 7 p.m.
Where: Cokato City Hall at 255 Broadway Ave S, Cokato, MN
Contact: Claudia Dumont, project manager, 320-223-6530
More information: Hwy 12 project website