Quick links
Related Guidance & Studies
Guidance
Other links
Area Transportation Partnerships
What is an Area Transportation Partnership (ATP)?
An ATP is a group of traditional and non-traditional transportation partners including representatives from MnDOT, Metropolitan Planning Organizations, Regional Development Commissions, counties, cities, tribal governments, special interests, and the public that have the responsibility of developing a regional transportation improvement program for their area of the state.
The ATP process was introduced in the early 1990's to ensure stakeholder participation in the investment of federal transportation funding. The ATP process provides for early and continuous involvement in the development of the State Transportation Improvement Plan a four year list of projects that are expected to be done within that timeframe.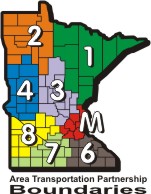 How does the process work?
The ATP solicits for projects that are eligible for federal funding. The resulting project lists are reviewed and integrated into the Area Transportation Improvement Program which is then sent to MnDOT's Office Capital Programs and Performance Measures to be included in the State Transportation Improvement Program. The final STIP is forwarded to the Federal Highway Administration/Federal Transit Administration for approval. No federal projects can be started until this approval is received.
How can I find my ATP?
You can find out more about your local ATP by following the links below. Typical ATP page would include meeting notes, agendas, etc.
updated: 2/11/2013