Resources
Metropolitan Planning Organizations
Regional Development Commissions
Partners in Transportation Planning
Metropolitan Planning Organizations
What is an MPO?
Metropolitan Planning Organizations (MPO) are entities designated by law with the lead responsibility for the development of a metropolitan area's transportation plans and to coordinate the transportation planning process. All urban areas over 50,000 in population are required to have an MPO if the agencies spend Federal funds on transportation improvements.
There are eight Metropolitan Planning Organizations in Minnesota.
The following are some primary functions of an MPO:
Maintain a Long Range Transportation Plan
Develop a Transportation Improvement Program
Develop a Unified Planning Work Program
For more information on how MnDOT and MPOs work together, please contact Bobbi Retzlaff, Principal Transportation Planner
Other Links and Resources
Association of Metropolitan Planning Organizations
Regional Development Commissions
What is an RDC?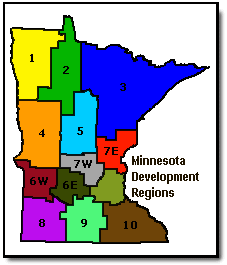 Minnesota's twelve (12) regional development commissions are key partners and technical assistance providers to the Area Transportation Partnerships (ATP) around the state. Each regional development commission is a partner in the ATP process and involved in soliciting and evaluating projects and seek to integrate regional priorities in planning and project selection. Each RDC coordinates transportation with MnDOT following a work program framework. This framework helps develop consistency yet allows for unique differences in regional transportation planning issues around Minnesota.
For more information on RDCs, contact Katie Caskey, Senior Transportation Planner
Other Links and Resources
National Association of Development Organizations (NADO)