Plan development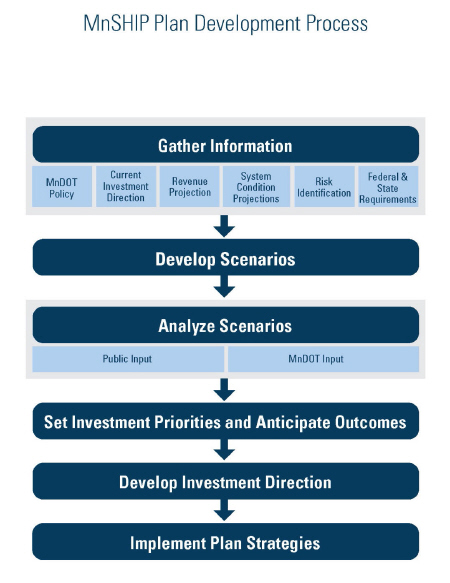 How will MnSHIP be developed?
MnSHIP will incorporate risk, performance-based planning, and scenario-based planning to establish a fiscally-constrained investment direction for highway projects taking place over the next twenty years. Please see What is MnSHIP? for more detailed information.

MnSHIP will be influenced by public input throughout its development. Please see the MnSHIP Public Involvement Plan and the Public Outreach Summary for a more detailed explanation of the variety of outreach methods used in MnSHIP.
How does MnSHIP differ from the last plan update?
MnDOT is using the process to the right to develop investment priorities and strategies for the state highway system.
MnDOT began the development of MnSHIP by conducting extensive research on the various factors that will impact Minnesota's state highways over the next 20 years, including MnDOT policies, the current investment direction, available funding, system condition projections and associated risks, and federal and state legislative requirements.
MnDOT used these factors to develop a baseline for three alternative investment approaches. MnDOT used these investment approaches to solicit public input through stakeholder engagement meetings, an online interactive scenario tool, and multiple other venues. Public feedback, combined with input and analysis from stakeholders from within the agency, will help MnDOT identify a final set of priorities for future capital improvements on the state's highways.
The final MnSHIP document, available in Summer 2013, will outline specific investment strategies and potential projects that will help Minnesota achieve the priorities identified through the MnSHIP process.