Final Report Available
The Northern Minnesota and Northwest Wisconsin Regional Freight Plan Final Report and the Western Minnesota Regional Freight Plan Draft Final Report are available on the resources page.
About the Freight Plans
Mn/DOT is in the process of developing comprehensive freight plans for a large portion of the State of Minnesota. This process is anticipated to be completed in mid-2009. The Northern Freight Study focuses primarily on Mn/DOT District 1, 2 and several counties in northwest Wisconsin. The Western (Red River) Freight Study focuses on Mn/DOT Districts 2, 4 and 8.
Background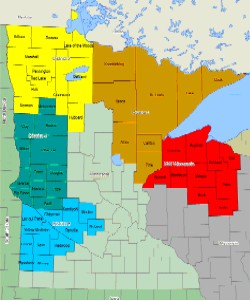 The Minnesota Department of Transportation (Mn/DOT) in partnership with the Wisconsin Department of Transportation (WisDOT), the University of Wisconsin-Superior, the University of Toledo, and several regional planning authorities, including the Duluth-Superior Metropolitan Interstate Council (MIC), the Fargo-Moorhead Council of Governments, the Grand Forks-East Grand Forks Metropolitan Planning Organization, and area Regional Development Commissions (RDCs) are developing two regional freight transportation plans: The Northern Minnesota and Northwest Wisconsin Freight Plan, and the Western Minnesota (Red River) Freight Plan. The purpose of these multi-modal freight plans is to build on prior planning activities by providing a better understanding of the demands from freight on the regional transportation infrastructure and to identify projects, programs and policies that can accommodate those demands. These freight plans are intended to support transportation decision-makers with current and future investment decisions that address freight related needs on regional transportation systems. These plans will also provide a framework to:
Examine local freight movements and trends not captured in larger planning studies, including region-specific and industry-specific trends and issues;
Document existing freight transportation systems and how it's being used by different sectors of the area's economy including agricultural, energy, timber, forest products and mining;
Recommend projects, program and/or policy changes to address freight needs, including funding strategies and private sector partnerships; and
Strengthen relationships with freight and business community through outreach activities.