About this project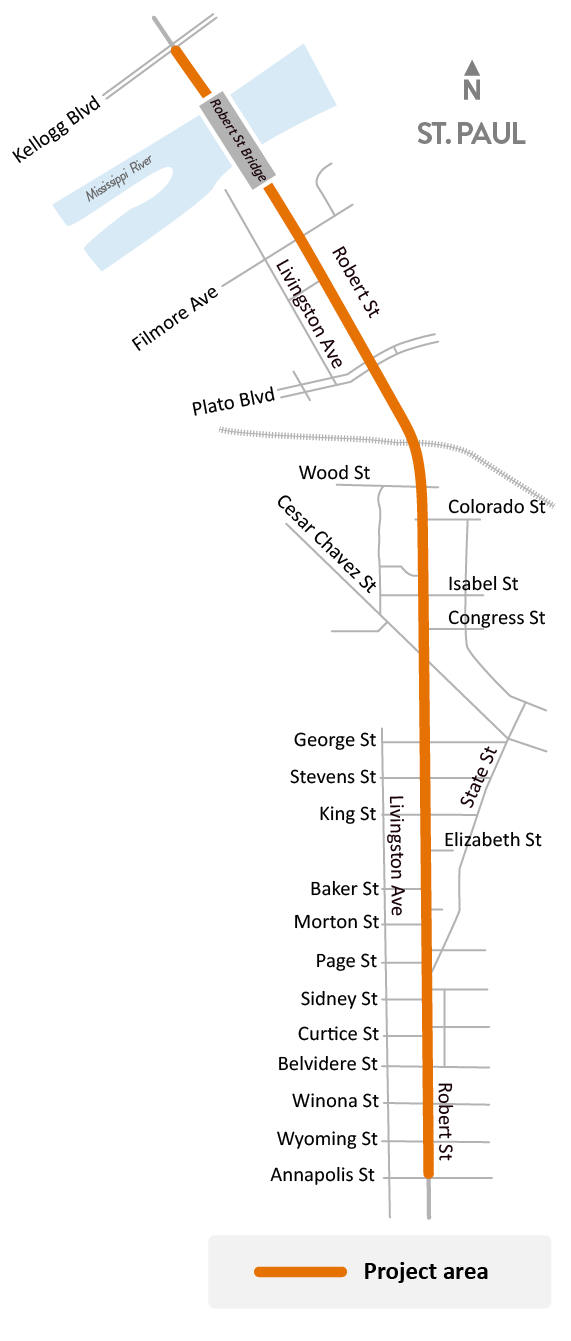 We are planning significant improvements to Robert St. between Annapolis St. and Fillmore Ave. in 2026-2027. Roadway improvements are currently slated to include mill and overlay repaving as well as sidewalk repairs. In addition, we are working with the City of St. Paul to seek additional funding to make more improvements along Robert St.
In the meantime, we have made several repairs along Robert St., including pedestrian improvements and minor repairs of the Robert St. Bridge over the Mississippi River in St. Paul in 2020 and repairs to the Robert St./George St. viaduct and the bridge over the Union Pacific railroad in 2022.
Any future work along Robert St. will be completed in coordination with other public entities, including the City of St. Paul and the Metropolitan Council, to limit construction disruptions for residents, businesses and property owners.
Summary of work
Began fall 2020: Test temporary curb extensions at the intersections of Baker St. and Robert St. and Isabel St. and Robert St.
Tentatively 2026-2027: Construction of corridor improvements
Complete: Repaired the George St. bridge and the viaduct between Cesar Chavez and King St. East, and repaired and resurfaced the Robert St. bridge over the Union Pacific Railroad tracks
Complete: Micro-surface and restripe Robert St. between Annapolis St. (south of the Mississippi River) and 11th St. in downtown St. Paul (just south of I-94)
Complete: Repair Robert St. Bridge over the Mississippi River