Web maps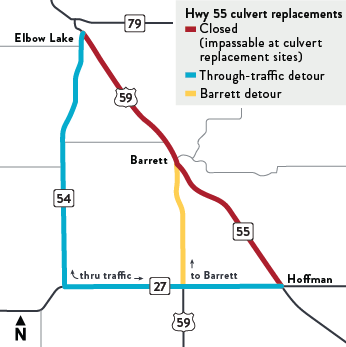 Project maps should be easy to quickly understand. Only essential information to understanding the basics of projects should be included. The objective of these maps is to show drivers where the project is located, where they can drive, and where they can't. More detailed maps can be used deeper in the site for those wanting additional information about the project(s).
The information on this page will help ensure that web maps are consistent in look, easy to understand and easier to produce.
Colors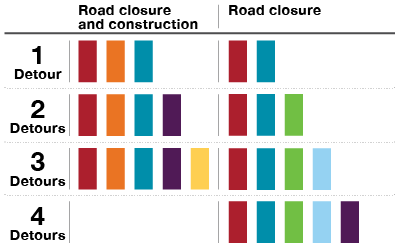 When multiple detours are used on a map it is important to choose colors that are distinctly different. Figure 3 shows how these colors are perceived by different and varying levels of color impairments.
Figure 2 shows color options for maps with one, two or three detours for maps with closures and construction and up to four detours for maps with closures only.
Remember: Always use red for closures and orange for construction.
Color accessibility
Color should never be the only point of differentiation. A changing the weight of the line or making a dashed line will make lines easier to differentiate and maps easier to understand.
Varying degrees of color blindness
The different ways colors are perceived by individuals makes choosing a color palette challenging. For simple maps, red, orange and blue are colors that are easy to differentiate. Complicated maps with four colors or more should be designed carefully, using figure three as a color comparison reference.