History
The light weight deflectometer (LWD) was first used in 1998 by the Minnesota Department of Transportation (MnDOT) at the Minnesota Road Research Project (MnROAD). Starting in 2005 the LWD has been used by MnDOT as an acceptance tool for the compaction of roadbed and miscellaneous embankment and trench construction, culvert treatments and other tapered construction.
Loan Program
The LRRB and MnDOT have purchased several LWDs that are available for loan to counties and cities. Contact John Siekmeier (651-366-5417)
LWD Resources
For more information:
John Siekmeier, Road Research
Research Topics
Resources
Organizations
What is a Light Weight Deflectometer (LWD)
For a highway to perform well over the long term, its soil and aggregate layers need to provide a stiff, stable foundation. MnDOT standards therefore require inspections during construction to ensure that pavement foundation materials have been compacted enough to ensure this condition. LWD's are a light weight, portable tool used to determine the stiffness of unbound materials during construction by measuring the deflection under an applied load. This device is hand operated and takes measurements of the deflection of the compacted soil that is impacted by a falling weight. The device measures a deflection and estimates a modulus value based on the force required to generate a given deflection for that soil type. This is one of the new methods to measure in-place soil parameters such as stiffness and strength, that include DCP and Intelligent Compaction.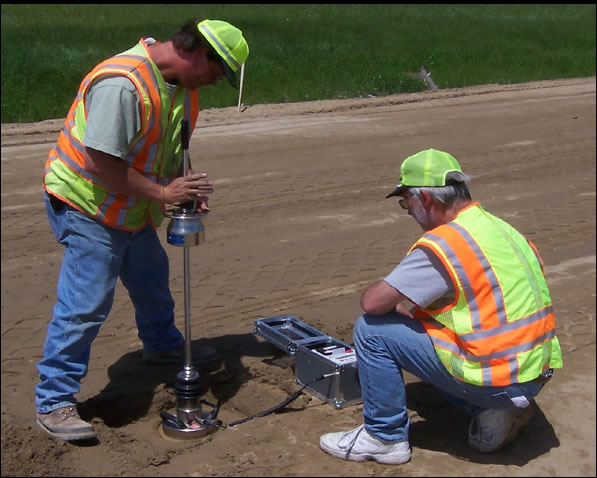 Benefits of LWD testing
Provide a more representative picture of a pavement's ability to handle traffic loads than laboratory density measurements
Direct verification of the soil values used during pavement design
Quicker results - no construction delay
No lab work so inspector stays on-site
Safer for inspectors: Less time kneeling near traffic at a construction site means fewer accidents
Completed Projects