Pavement Preservation Research
Definition: [a program employing a network level, long-term strategy that enhances pavement performance by using an integrated, cost-effective set of practices that extend pavement life, improve safety and meet motorist expectations without increasing structure or capacity.]
Source: FHWA Pavement Preservation Expert Task Group
Recreational Trail Preventative Maintenance
This video Tom Wood of the MnDOT Office of Materials and Road Research discussing why trails are important, options for preventative maintenance, and what actions MnDOT and the Local Road Research Board (LRRB) are taking to train stakeholders and practictioners on the importance and maintenance of recreational trails.
Midwest Pavement Partnership Organization (MPPP)
Comprised of State and Provincial Departments of Transportation from the U.S. and Canada and representatives from private industry, the MPPP was the first partnership of its kind to be established for the furtherance of the practice of Pavement Preservation.
National Pavement Preservation Conference
The First National Pavement Preservation Conference was held August 27-30, 2012 in downtown Nashville, Tennessee at the Renaissance Nashville Hotel.
Federal Highway Administration
This page includes a collection of research, resources, related links, and sponsors of pavement preservation research and implementation. There is a wealth of information pertaining to the subjects located here:
---
Chip seals apply a thin layer of asphalt and aggregate that seal the surface of an asphalt pavement. This protects the pavement from the effects of sun and water, increases skid resistance, fills small cracks and other surface defects. Chip seals extend the life of an asphalt pavement by 5 to 7 years and is a common preventive maintenance activity that involves spraying asphalt cement on the surface of existing pavement followed by the application of a cover agent.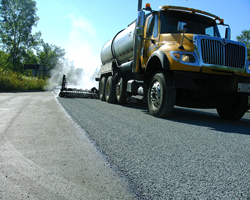 Active Research
Pavement Marking Performance Under Challenging Pavement Surface Condition Chip & Seal Coat and Microsurfacing
Comparative Performance Study of Chip Seal and Bonded Wear Course Systems Applied to Bridge Decks and Approaches
Stripping of Hot Mixed Asphalt Pavements under Chip Seals
Materials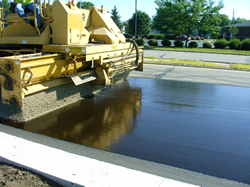 Tools
Links
Contact
---
Crack sealing is used for active cracks in asphalt pavements so that water is kept out of the pavements. Sealant installation is affected by a number of factors including: humidity, rout size, crack preparation method, heating time, sealant finishing and protection, and the temperature of air, sealant, and pavement.
Active Research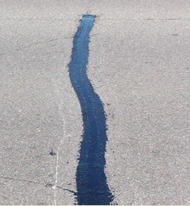 Implementation of Best Performing Concrete Bridge Deck Crack Sealants MPR-9(002)
Materials
Tools
Links
Contact
---
Diamond grinding is the removal of hardened Portland cement concrete (PCC) through the use of closely-spaced, diamond saw blades mounted on a rotating drum. Diamond grinding is used for the removal of bumps or scallops that cause poor ride quality and to restore surface texture, improving overall friction. The surface characteristics of the pavement after grinding are highly dependent on the blade spacing, which is highly dependent upon the hardness of the aggregate. Newly developed textures can also reduce tire-pavement noise.
Active Research
Diamond Grinding Concrete Pavement Surfaces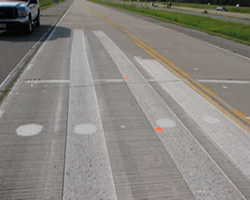 Materials
Links
Contact
---
A fog seal is a light application of a diluted asphalt emulsion used on aged shoulders, cul-de-sacs, recreational trails and over chip seals. Fog seals add new asphalt to the surface and help protect the asphalt from water and sun, can slow raveling and improve the appearance. In the case of a chip seal, adding a fog seal on the top helps lock in the aggregate.
Active Research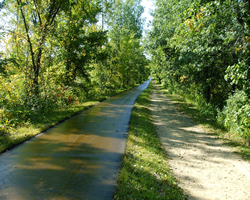 Materials
Tools
Contact
---
Concrete pavement joints and cracks are sealed to keep water and non-compressible materials out. Although joints are typically sealed at the time of construction, the life of sealants is shorter than the life of the pavement. The AASHTO NTPEP has done field evaluations of many types of sealants and found that the materials used, the saw cut and preparation, and installation all affect the performance of the seal.
Active Research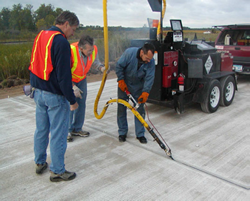 Investigation of Jointed Plain Concrete Pavement Deterioration at Joints
and the Potential Contribution of Deicing Chemicals.
Monitoring of the NTPEP Joint Sealer Sections in Motley & Staples
Development of an Acceptance Procedure for Concrete Repair Materials
Materials
Contact
---
Micro surfacing mixtures include polymer-modified emulsified asphalt cement, a well-graded 100 percent crushed mineral aggregate, and mineral filler, such as Portland cement or hydrated lime, with water and control additives added to control the speed of breaking and workability.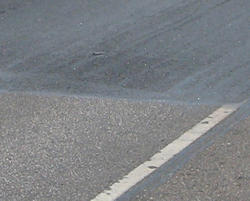 Materials
Contact
---
Thin Overlays and Ultra-thin Bonded Wearing Courses
Ultra-thin bonded wearing course (UTBWC) pavement treatment can be used as a preventive maintenance option or surface rehabilitation technique in which Hot Mix Asphalt (HMA) is laid over a heavy asphalt emulsion layer or membrane. It also includes traditional overlays with standard superpave mixes with or without milling for pavement preservation. These overlays are used with softer or modified binders compared to typical MnDOT use.
Materials
Contact