The Office of Materials developed the Aggregate Source Information System (ASIS) in 1985. It is a database used to store and retrieve information on aggregate sources (gravel pits and rock quarries). Each pit or quarry is assigned a 5-digit source number. The Geology Unit manages this database.
The ASIS Interactive Map is a geographical representation of the gravel pit and rock quarry data that is in ASIS.
If you have problems viewing data please see Frequently Asked Questions. Instructions on using the map interface are available by clicking on the Help button on the top menu bar of the interactive map. Below is additional information about the Aggregate Sources layer.
The Aggregate Sources layer consists of two main categories: 1) Mn/DOT owned pits, and 2) those owned by others that may, or may not, be leased by Mn/DOT. There is also an "All Aggregate Sources" folder that contains all pits regardless of owner or status.
Unavailable sources are most likely not available for further mining.
Identifying or selecting aggregate sources returns an Excel spreadsheet as shown below.

If the source number in the leftmost column is blue, a pitsheet (Adobe pdf) can be viewed by clicking on the source number.
The Excel spreadsheet can be saved to your computer.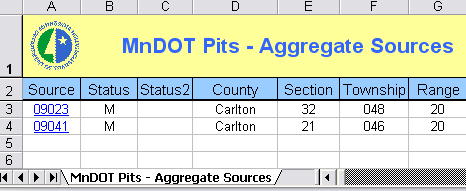 The Report Tab, in the Table of Contents Frame, allows you to search for aggregate source data by entering Aggregate Source Number, District, County, or Section-Township-Range. The resulting report is an Excel spreadsheet as shown above. The Report only searches the Active Select Layer.