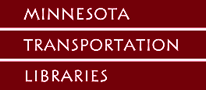 ---
Minnesota Transportation Libraries Videotape Catalog
Most of the items listed in this catalog are available for borrowing from the Minnesota Transportation Libraries. A list of acronyms has been provided to make the information provided in the catalog more understandable.
Note: Search results will display on a page which is formatted differently than the rest of this site.
Search videotape catalog using keywords:
Or, browse the Local Government Video Catalog (PDF 725 KB, 115 pp)
See the National Audiovisual Center for more videotapes.
Documents and Databases
Transportation Resources
Transportation Library Resources
Contact Us
MnDOT Library
Mail Stop 155
395 John Ireland Blvd.
St. Paul, MN 55155
Tel: 651-366-3791
Fax: 651-366-3789
library.dot@state.mn.us