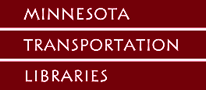 ---
Minnesota Transportation Libraries Videotape Catalog
Most of the items listed in this catalog are available for borrowing from the Minnesota Transportation Libraries. A list of acronyms has been provided to make the information provided in the catalog more understandable.
Note: Search results will display on a page which is formatted differently than the rest of this site.
Search videotape catalog using keywords:
See the National Audiovisual Center for more videotapes.